Explore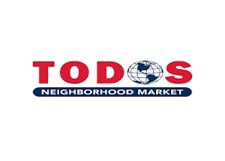 Todos Supermarket was created in July 1990, aiming to fulfill the needs of the growing community, which eventually expanded to other communities in the Woodbridge area. Todos is the business partner for the PWCS Explore Program.
The Explore program is designed for students with disabilities aged 18-22 years old pursuing an Applied Studies Diploma. PWCS partners with community businesses to provide opportunities for our student explorers to discover their interests, preferences, and potential for successful postsecondary employment and independent living outcomes.
Explorers spend most of their day engaged in work-based learning activities that provide opportunities for hands-on exploration of their career interests and preferences. In addition to acquiring marketable job skills in a variety of occupational areas, students learn to manage and meet the demands of competitive work, as well as develop the soft skills required of the 21st-century workplace, such as responsibility, self-confidence, team spiritedness, a good work attitude, and self-motivation and management.
Throughout the program year, the interns work on employability and functional skills. The interns acquire competitive, marketable, and transferable skills to enable them to apply for a related position through participation in a series of three targeted internships. These are unpaid work experiences - analogous to the retail rotations that are part of every food market or business internship program. Interns spend approximately five hours each day at the internships, which includes a thirty-minute lunch. Working from a task list, they acquire the core skills necessary to be hired in an entry-level position at the host business site or in the community. Interns are supported in making decisions about the careers they wish to explore, and in developing those skills essential for achieving meaningful success for them.
The provision of these services embraces best practices, the acknowledgment that everyone is a valued member of the community and that inclusive participation in civic life is integral to the promotion of the PWCS vision.
For more information about Prince William County Public Schools Explore Program, contact:
Ann Johnson, Special Education Administrative Coordinator at
JohnsoA4@pwcs.edu