Savings Bonds
The U.S. Treasury Department has added a new payroll feature to its electronic TreasuryDirect account system. You now have choices about how you purchase savings bonds. You can use payroll deduction to purchase electronic (that is, paperless) savings bonds through a web-based system called TreasuryDirect. This system allows you to establish an online account with the U.S. Treasury to purchase, hold, and manage securities. Through a payroll deduction, just like one you would use to contribute to a bank account or credit union account, you can transfer funds to your TreasuryDirect account and purchase savings bonds.
Consider these additional benefits when you open a TreasuryDirect account:
You can purchase and redeem your savings bonds online
You can view and track your purchases and account activity online
You can access and print detailed information about your current holdings 24 hours a day
In the future, you will be able to purchase Treasury bills, notes and Treasury Inflation-Protected Securities (TIPS) through the same TreasuryDirect account.
We encourage you to visit www.TreasuryDirect.gov for more information and a guided tour of TreasuryDirect. Once you have set up your account, and you choose the payroll deduction option, you need to print the payroll deduction form (PDF) and forward the completed form to the payroll office.
---
PWC Employees Credit Union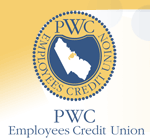 $AVE BIG! PWC ECU has a partnership with Brennan Team of the Long and Foster Real Estate and George Mason Mortgage LLC to provide savings on closing costs to buy or sell a home. Check for details on the $AVE BIG link on our website - www.pwcecu.org.
The PWC Employees Credit Union is a member-owned, not-for-profit financial cooperative chartered by the Commonwealth of Virginia in 1971. All PWCS employees are eligible to join the PWC Employees Credit Union. Simply open a share savings account with as little as $10 and a one-time $1 membership fee. You become immediately entitled to take advantage of all of the products and services your credit union has to offer such as low interest rate loans and high interest rate certificates of deposit:
Draft (checking) accounts have no minimum requirements or monthly service charges.
Maximum Signature loans up to $5,000 with rates as low as 8.99% to qualifying borrowers!
Example: $5,000, 60 months at 8.99% estimated payment of $106 per month
Call 703-680-1143 or apply online.
---
Apple Federal Credit Union
Apple FCU has been serving Prince William county educators for more than 20 years. From basic financial accounts like checking and savings, to competitive-rate auto and home loans, Apple has something for everyone. Plus, as PWCS employees, you're eligible for some exclusives courtesy of Apple FCU. Visit the Apple Federal Credit Union website for more information.