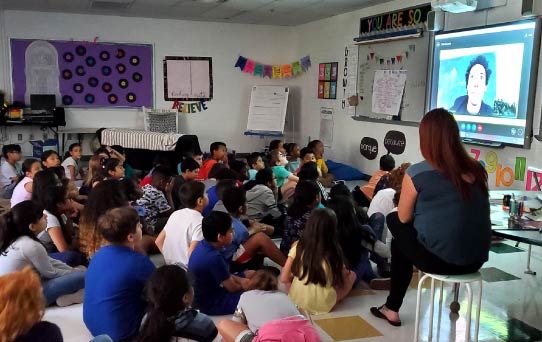 Sitting on the floor of the classroom crowded around the smart board, the fourth-grade students at Rockledge Elementary School were eagerly waiting to begin their conversation with a scientist. Excited whispers quieted down when the Skype session connected with Pablo Ramirez, a mathematician and biologist, who lives and works in South America. Thanks to the Skype a Scientist program, these students were able to meet and interact with Ramirez.
During the session, Ramirez spoke with students about infectious diseases and the impact they have on populations, particularly those in less developed countries. This included the role mosquitos play in spreading disease. Ramirez then compared the spread of infectious diseases to how humans develop cancer. The students engaged Ramirez with several thoughtful questions during his presentation.
Following the Skype session, Fourth-Grade Teacher Miranda Elza said, "I think the program is beneficial for my students because they are able to hear from a real scientist. With a good majority of my students coming from Hispanic countries, it was a huge connection for them to speak with Dr. Ramirez, who is from Columbia. It was also a connection for the students that he was wearing a sweatshirt and not a white lab jacket, which I think many students think scientists only wear. He was able to stand as a real-life example of perseverance and chasing your dreams."
Encouraging students to explore science and connecting them to scientists around the world is Positively PWCS.