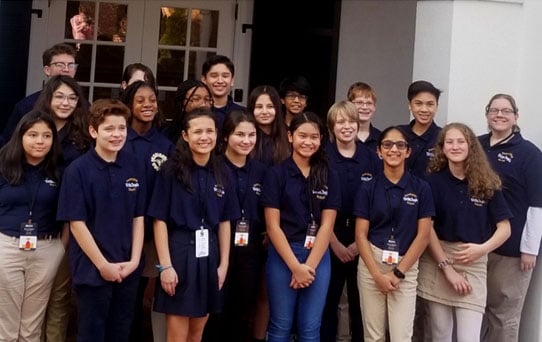 In December, Pennington Traditional School sent six groups of middle school students to compete in the regional We the People competition through Virginia Civics. The competition was held at Patriot High School and six middle and high schools competed in a faux congressional hearing to demonstrate their knowledge and expertise on topics related to American history and the government.

Pennington Traditional received first place in the middle school level and will advance to the state competition, which will be held on January 25, at the University of Virginia. Additionally, one group made up of sixth-graders Michael Crupi and Adi Telugu Guvvala, and seventh-graders Juris Field and Skye Green, won the Best Unit Award from the six Pennington teams.
The simulated congressional hearing not only deepens student knowledge of the U.S. Constitution and Bill of Rights, it also builds important 21st-century workplace skills and dispositions, such as working cooperatively as a team, public speaking, managing conflict, and reaching consensus.
Update:
Pennington's teams, coached by social studies teachers Erin Merrill and Sam Mancuso, took fourth place overall at the state competition, with three of their six groups claiming first place in their unit. The Best Unit Award went to eighth-graders David Rodriguez-Quiceno and Sienna Sandiford who presented on the theories of classical republicanism, natural rights, and America's connection to Ancient Rome.