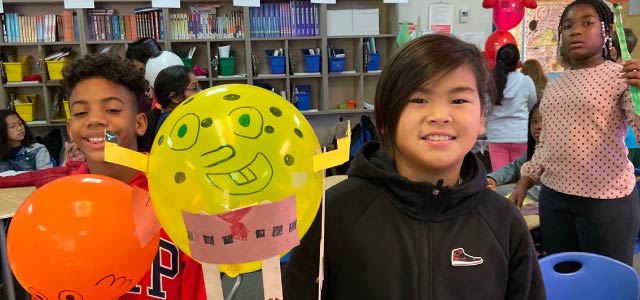 Reading "Balloons Over Broadway: The True Story of the Puppeteer of Macy's Parade" by Melissa Sweet inspired a fun science, technology, engineering, arts, and mathematics (STEAM) activity at Kyle Wilson Elementary School. Students in grades second, third, and fifth used what they learned from the book and their STEAM skills to design balloons and floats to showcase in a parade.
The book provided insight into the creative side of parades, but also showed what can be accomplished through perseverance and by thinking "outside of the box" when encountering difficult problems. Principal Gretchen Drzewucki explained, "We wanted students to incorporate technology and problem-solving for a real-world event."
Students built and coded Lego robots to carry their balloons and follow a parade route down a hallway in the school. In another classroom students designed floats instead of balloons. Students were provided float requirements and materials and had to develop their float based on the criteria of height, alignment with a children's book character, and size. This group of students then used green screen technology to form a parade along the back wall of their classroom. They recorded their parade and later shared the video with Fifth-Grade Teacher Kerron Miller's former school, Hillel Academy in Kingston, Jamaica. Miller is one of the School Division's visiting international faculty members.
Fifth-grade student Tehreem enjoyed sharing the video with students in Jamaica. "Other people get to see what we do and the opportunities we have at Kyle Wilson Elementary," he said. Fifth-grade student Vanessa explained, "I liked sharing our ideas and working together."