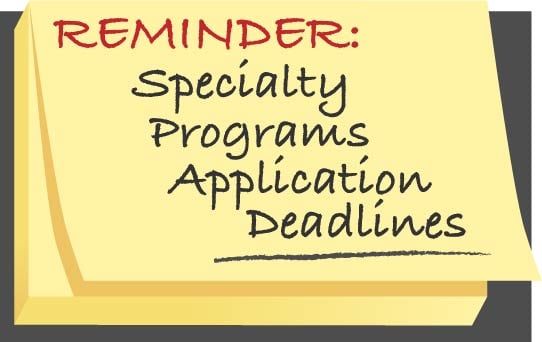 The application deadline is February 1, 2020, for most PWCS specialty programs, Career and Technical Education (CTE) programs, and Junior Reserve Officer Training Corps (JROTC). Usually students enter specialty programs and CTE transfer programs as freshmen, while CTE transport programs typically start during the sophomore or junior year. Note that an application is required even when the program location is in the student's base school.
If a program receives applications for more students than the program can accept, or the school can house, a lottery is used to select program participants. Due to enrollment capacity at a given school, a program may close to new transfer students.
Specialty Programs
Ninth-grade students may participate in the comprehensive program at their base high school, apply for the specialty program at their base high school, or apply to transfer to another high school for a specialty program. Preview information about each program on the specialty programs webpage.
CTE
For students who have a strong sense of the career area they wish to pursue, CTE programs provide an opportunity to explore their interest while gaining valuable knowledge and skills in preparation for a career or post-secondary studies. Preview information for each program on the career and technical education webpage.
JROTC
PWCS offers JROTC programs for the Army, Navy, Air Force, or Marines at nine high schools. Students enroll in the JROTC program at their base school or in the specialty program they are attending. Students are encouraged to enter the program in the ninth grade in order to receive the full benefit of the four-year program.