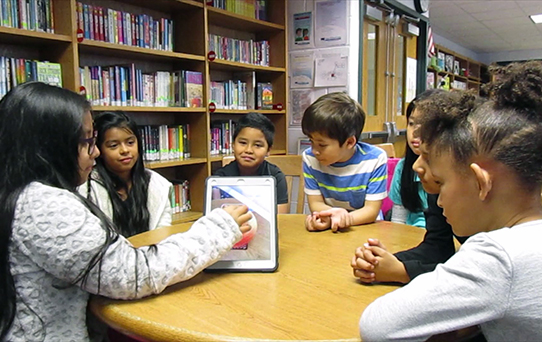 Loch Lomond Elementary School is looking forward to technology enhancements across their school thanks to a $48,000 Team Up for Technology (TUFT) grant from the Jimmie Johnson Foundation. They learned of this grand-prize award last month after two rounds of grant competition.
Last fall, Fifth-Grade Teacher Lauren Daly's submission to the TUFT grant program earned Loch Lomond Elementary a semi-finalist spot. As a semi-finalist, the school received a camera and a laptop to complete round two of the grant competition which required the school to produce and submit a video demonstrating how a technology makeover can help improve their school.

"Rochelle Allen, our amazing instructional technology coach (ITC), and the technology club students produced the winning video," proudly shared Joy Greene, assistant principal.

Allen and students created their video to share about the diverse population of learners at Loch Lomond and how many of the students don't have access to technology at home, so school is where they are being prepared for the digital world. With only one computer lab at the school, students have limited time and access to computer programs and science, technology, engineering and math (STEM) experiences.

"We want to learn how to code. We want to create apps, videos, and cool presentations," shared the students who appeared in the video.

The school plans to use the $48,000 to purchase mobile STEM carts to give more students access to technology. The carts will allow computers and tablets to move from classroom to classroom.

Jimmie Johnson, a current NASCAR driver, and his wife Chandra launched the Jimmie Johnson Foundation in 2006 with a primary focus of supporting K-12 public education. The Team Up For Technology grant program has been helping schools increase student access to technology since 2012.

Loch Lomond Elementary's winning video is posted on the Jimmy Johnson Foundation's website.