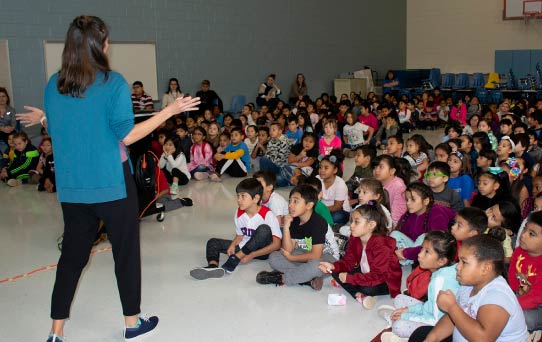 Author and illustrator, Angela Dominquez, visited Yorkshire Elementary School to give students a behind-the-scenes look at what it takes to produce a children's book. Dominquez has published 32 books over the past 12 years and is a two-time winner of the Pura Belpré Illustration Honor, given to a Latina/Latino whose work celebrates the Latino cultural experience.

Dominquez introduced herself to the students by showing photos of her family, friends, and places she has traveled. Each step of the way she engaged the children, and encouraged them to ask questions. Next, she integrated images of the books she loved to read as a young girl, prompting a number of raised hands when she asked if anyone had read these books too. The author explained how she uses these real-life experiences, places, and books as inspiration to create many of her characters and stories.


The inspiration for the main character in her first book, "Stella Díaz Has Something to Say," came from her lifelong best friend. However, she changed her friend's name to Stella, after a character in a famous movie called "A Streetcar Named Desire." Dominquez expressed to the children that it was part of the fun to write and create elements based on her own experiences. It's a formula that obviously works. The middle grade chapter book was a New York and Chicago Public Library pick for Best Books for kids in 2018.

The author's sense of humor can be found in every one of her books, including her picture book, "Maria Had a Little Llama (María Tenía Una Llamita)," a play off the popular poem and song, "Mary Had a Little Lamb". The author is keenly aware that positive messages and learning are essential in children's literature. Some of her books address common problems children face, offering solutions based on problem-solving techniques. A perfect example can be found in her "Lola Levine Series" of chapter books.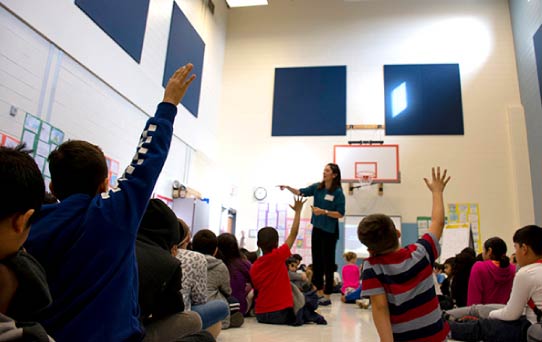 Teaching by example, Dominquez engaged the children, asking them to help her create a new character. Prompting suggestions from the students, she stood before a flip board, sketching as children gave her ideas. This brought to life a pudgy bear in a party hat, adorn with clothing and an unconventional background, inspired by the children's responses. In essence, she collaborated with the audience to create something new and different before their very eyes.

Students wasted little time when Dominquez opened the floor to questions. Are you married? How long does it take you to write a book? The author took even the most unusual query in stride, but was noticeably impressed with the student's depth of knowledge. In closing, Dominquez reinforced her belief that each student can be creative, whether their passion is to be a writer, illustrator, dancer, musician, or whatever they choose to pursue.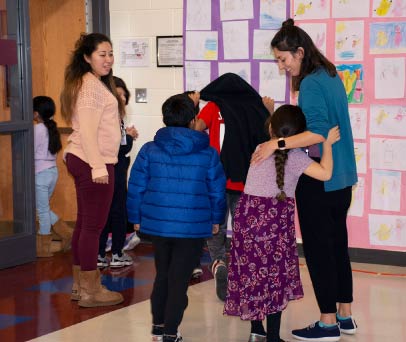 The author stood near the doorway giving high-fives as students filed out, most getting in one last question, or expressing their thanks. Then she received the ultimate reward as a student bypassed the high-five and verbal thank you, choosing instead, a warm embrace.