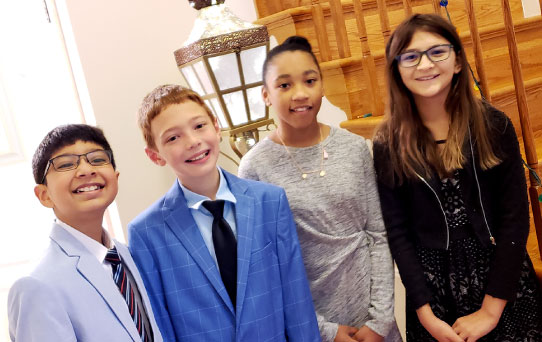 With only one season under their belts, several members of a new Haymarket Elementary School debate club formed a small team and bravely competed against 14 more-experienced teams from area school divisions, including D.C., Fairfax, Loudoun, Arlington, and Alexandria, at the fall Washington DC Urban Debate League tournament, a part of the National Speech and Debate Association. According to Principal Scott Baldwin, Haymarket is the first elementary school in PWCS to have a debate club.

While initially the whole seven-member club held meetings in the library for an hour one morning a week, as the competition neared and the "resolution," or debate topic, was announced, the team began meeting for two hours every day to train more intensely.

In debate, it's important to be able to make a case for either side of a topic, so students take turns practicing both supporting and opposing roles based on the flip of a coin. They must also understand debate terminology and be able to follow the judge's timing and that of their opponents. Once they understand some of the mechanics, debate practice focuses on case creation, sources contention, and structure. Students study different communication methods for speaking and listening; how to conduct research; and writing and organization. In debate, the topic, or resolution, changes every two months.

Adil Usufzai, club sponsor, team coach, and the father of member Muhammad, helped his newly minted group of fifth graders prepare for their first competition.

"The skills students develop are real-life and have a practical impact," said Usufzai. "They learn how to approach things with a structure, to think intuitively and logically. Debate pushes them to practice civil discourse at an early level."

According to Usufzai, the four competitors, though nervous, were "super-charged" at the tournament and ended up scoring in the fifth and sixth positions against the other more-seasoned teams. Congratulations to Muhammad Saifullah Usufzai, captain for team 1; and Ava Greene, team partner; Braedon Strahley, captain for team 2; and Aniyah Rush, team partner.

"This first time was to give the kids an initial understanding of the debate process and a taste of what competing is like," said Usufzai. "Beforehand, all the students were having nerves, but when I asked them if we are going to compete again, they all said, 'Of course!'"

The students are now gearing up for the next competition in April.
Giving our students the skills and opportunities to learn to be great communicators is Positively PWCS!