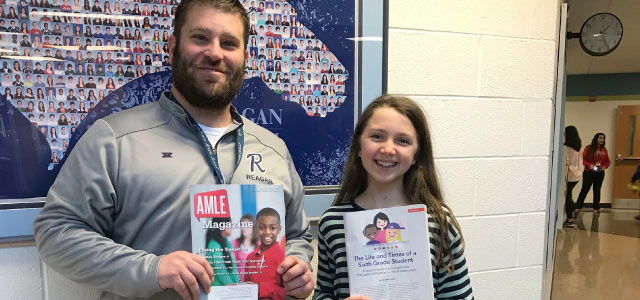 Congratulations to Annabelle Kier, seventh grader at Ronald Wilson Reagan Middle School, whose article "The Life and Times of a Sixth-Grade Student" was the cover story for the February 2020 Association for Middle Level Education magazine.

The article echoes Kier's encouraging words to fifth-grade students who attended the Ronald Reagan Middle orientation session over the summer. Having witnessed her leadership qualities and work ethic, Joseph Murgo, Reagan's school principal, asked Kier to speak to the incoming students. Kier is also a junior reporter at the school and was featured on a Fox 5 "Zip Trip to Haymarket" segment last May.

In this honest article, Kier opens up about missing elementary school, where everyone and everything is known, about being "CLUELESS" on her first few days, and about worrying that she wouldn't be able to manage the new responsibilities of assignments, switching classes, and opening lockers. She tells personal stories about reaching past her fear during some tough, lonely moments to find the help she needed.

"There are so many things that open up for you once you get to middle school other than lockers and classes," Kier said. "In the end, if I could go back and say something to my fifth-grade self, I would say one thing. 'It's going to be okay. It's going to be more than okay.'"