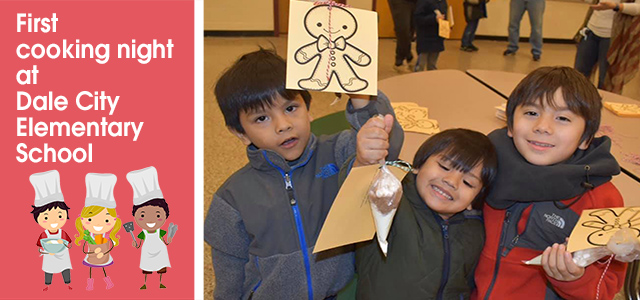 When you see children cooking, you see reading, measuring, math, following directions, collaboration, listening, and problem-solving. This was the goal at the first cooking night at Dale City Elementary School. Parents and students followed a gingerbread house rotation of four activities. Cooking with your parents was the focus of the evening. The event centered around how to measure the proper ingredients to make hot chocolate from scratch. Once each student filled their pastry bag with the proper ingredients, including marshmallows and chocolate chip toppings, they received directions with a picture of a smiling gingerbread person to tie onto their pastry bags.
Other activities included parents and children reading the book "The Gingerbread Man," walking under a snow tunnel with hands-on activities, and a parent-child game of "Hungry, Hungry Hippos." To top off the evening, families were given a staff cookbook in which staff members shared their favorite recipes.
"All in all, it was a fun night with parents learning about the different ways that reading and math can play a part in their child's everyday lives," said Jessica Stieler, Title I teacher at Dale City Elementary, "You know it was a success when parents are walking out saying, 'I can't wait to see what's next' and 'We would love to do this again next year if offered.'"