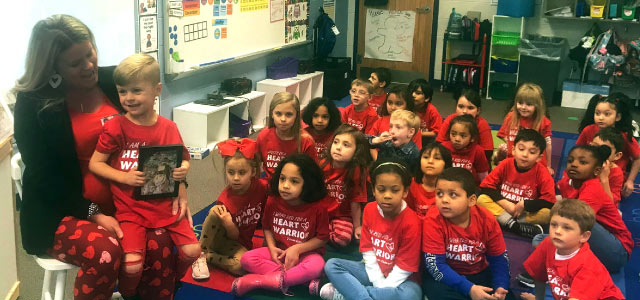 Cameron Barb, a 6-year-old kindergarten student at Kyle Wilson Elementary School, has won more battles in his short life than many people face in a lifetime. He was born with a congenital heart defect (CHD). In celebration of February's Heart Health Month observance, he shared his story with fellow students in Cortyne Sumter's class.
Cameron's very rare and complex CHD is hypoplastic left heart syndrome (HLHS). The left side of his heart was underdeveloped. After his birth at MedStar Washington Hospital Center in Washington, D.C., alongside twin sister Stella, he was immediately transported to Children's National Medical Center. At 3-days old he had his first open heart surgery, followed by a second operation at 4-months-old, and then a third at 2-years-old. He may need further surgeries and interventions later in life.
Cameron's mother, Jessica Barb, twin sister Stella, and older sister Kennadie, helped with the presentation to his class. They read David Humphreys' "Zip-Line," a children's book that tells young open-heart surgery patients about their large chest scar. They also read "Only You Can be You: What Makes You Different Makes You Great" by Nathan and Sally Clarkson. This story teaches kindness and encourages children to embrace differences.
"I feel it is my responsibility as an educator to teach/grow the best little people possible. I always tell my students, people may forget what you tell them, but they will never forget how kind you treat them. This is a lesson I hope they leave kindergarten with," Sumter shared.
Barb and Sumter hope that Cameron's story will also help students understand the importance of fundraising for charities such as the American Heart Association (AHA). In the past three years, Kyle Wilson Elementary has raised over $20,000 for the AHA through their Jump Rope for Heart donation drive. The AHA provides doctors with knowledge and resources to help children like Cameron.