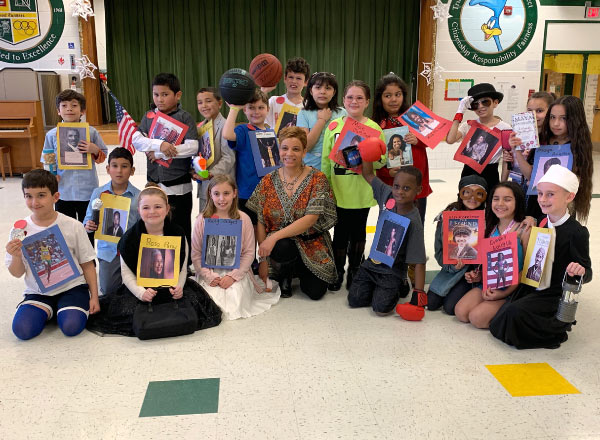 Shakira Townsend's third-grade class at Coles Elementary School studied several prominent figures in black history. Their hard work was shared with fellow students at their Black History Wax Museum.
For two weeks, Townsend read various books to her class that featured notable people in black history. Her students took notes about each person, then chose three favorites to research. They wrote biographies and created a magazine with the information they discovered. Finally, they selected one person to become for the Black History Wax Museum.
On the day of the activity, students from all grade levels visited the school's cafeteria where Townsend's students were posed. When the red dot on their shoulder was tapped, the student introduced themselves, stated their birth date and shared a few facts. "A lot of the students had chosen their characters because they had never heard of them before and they wanted to research them a little further. Some students chose their characters, because the person was familiar to them, but they still wanted to learn more facts," Townsend explained.
Third-grader Bella Alicea transformed herself into Madame C.J. Walker by holding a hairbrush, a jar of hair product and wearing vintage costume-dress. In her speech, she stated that Walker, who's birth name is Sarah Breedlove, developed hair care products for black women and became the first female self-made millionaire.
With a gas lamp in hand and wearing long black dress, Mikayla Helbringer became American abolitionist Harriet Tubman. Her work to free slaves through the Underground Railroad is well-known history, but Mikayla also told guests why Tubman wore a headscarf. The clothing accessory hid scars from a head injury caused when a slave owner threw a heavy piece of metal at another slave but hit Tubman instead.  
Some students depicted historical figures who are not deceased. These included gymnast Gabby Douglas, who was portrayed by Briana Peraltn. Douglas was first person of African descent to win the all-around gold medal in gymnastics at the Olympics. Briana also shared that Douglas helped set a record of cartwheels performed simultaneously by a group.
Pilot Besse Coleman, agricultural scientist George Washington Carver, civil rights activists Ruby Bridges and Martin Luther King, Jr., athletes Michael Jordan and Usain Bolt, and singer Michael Jackson were also among the 19 historical figures in the Coles Elementary Black History Wax Museum. 
Townsend said that the activity was a great example of how students can teach each other. "If they just get that one piece of information that they didn't know about and take that away, then that's the benefit of it," she added.