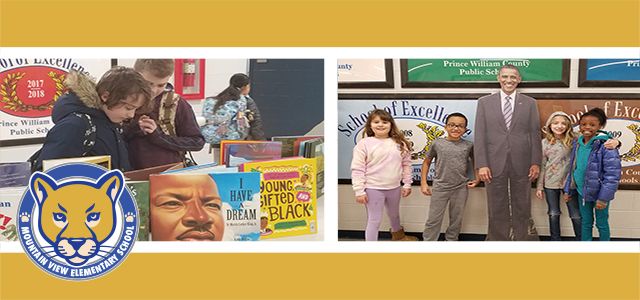 Mountain View Elementary School is observing Black History Month with everything from displays to guest speakers to special school-wide assemblies.

An interactive book exhibit in the Mountain View Elementary lobby features more than 50 books by or about African Americans. Books are for students to peruse and for teachers to borrow for classroom use.

"Students and teachers have the opportunity to visit the book display as often as they like as well as borrow books to use in their classrooms," shared Keniesha Haywood, first grade teacher and the celebration's staff liaison.

Also in the lobby are life-size cutouts of notable African Americans including former President Barack Obama, former first lady Michelle Obama, and orator and abolitionist Frederick Douglass. The display, sponsored by the Henry Educational Foundation and Sanametrix, Inc., is designed to inspire conversations and further exploration of African American culture and contributions.


A highlight of the month-long celebration has been dubbed "Achievers in our Community." Special guests from local businesses, organizations, and trades visited students in their classrooms to share about the historical and contemporary achievements and contributions of African Americans.

Gilbert Knowles, author and community leader, dressed as Thurgood Marshall and spoke about his personal experience while also sharing facts about the Supreme Court Justice's legacy.

Jarcelyn Hart, associate superintendent for western elementary Schools for Prince William County Public Schools, was among the special guests as were Warner Roberts, president and CEO of Sanametrix, Inc., Dr. Tontra Lowe, DDS, owner and dentist, Awesome Smiles Dental Center, Dr. Margaret P. Neal-Stubblefield, DDS, MAGD of Neal Dental Care, and Carylee Carrington and Jennifer Roberts, both local children's books authors. Roberts' son is a fourth-grade student at Mountain View, and she along with her mother-in-law, Mary Roberts, are co-chairs of the Mountain View African American Achievement Celebration. >
Each morning this month, the daily announcements include information about the origin of Black History Month and highlight the contributions of a variety of African Americans from varying disciplines. There are also weekly trivia contests that emphasize the numerous and important achievements of black Americans.

Art and science collided for fifth graders who, guided by Science Teacher Heidi Rhodes, selected an African American scientist or inventor, researched the person and created a visual biography about the person using a 2-liter plastic bottle.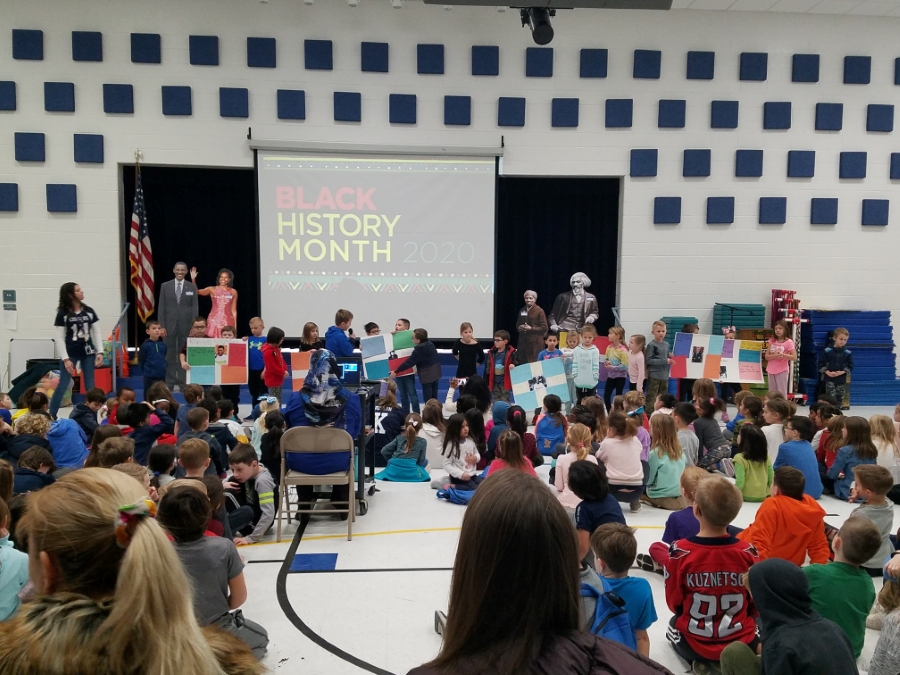 Finally, assemblies were held featuring class presentations and individual students in grades K-5 giving oral presentations about African Americans including Mae Jemison, Muhammad Ali, George Washington Carver, Serena Williams, Venus Williams, Stevie Wonder, Simone Biles, Ella Fitzgerald, and Neil deGrasse Tyson.