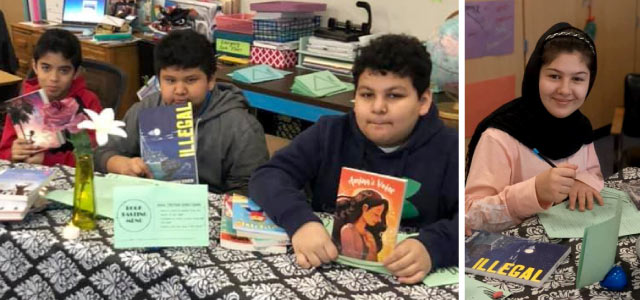 Saunders Middle School students in Julie Horton's and Miami Armstrong's classes were treated to a book tasting. Sixth, seventh, and eighth graders visited the book restaurant throughout the school day. They sampled a variety of literature choices with help from the teacher chefs before making a pick for their main entrée.
According to Horton, the idea was shared in a department meeting and she wanted to try it. "We recently received a shipment of new books and I didn't want to just put them on a shelf. I wanted to show students that they could really relax, savor, and enjoy books," shared Horton.
The students engaged in viewing book trailers, tasting books, and selecting individual book menu items. They appreciated having the classroom transformed into a relaxing restaurant complete with tables with tablecloths, artificial flowers, soft Italian instrumental music, and even battery-powered candles.
Horton added, "The atmosphere transferred them from the grind of a regular school day into a magical atmosphere. It was fun, relaxing, and recharging for everyone." Both teachers plan to hold this event at least twice a year. Bon Appetit!