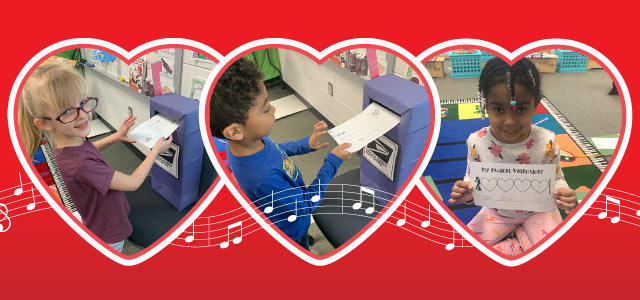 Students at Covington-Harper Elementary School were in the Valentine's Day spirit last week. While learning various music concepts they created musical valentines for each other.
Jennifer Nichols, music teacher at Covington-Harper Elementary, used the unique lesson to teach musical notation, music literacy, music composition, and music performance. Students learned that the heartbeat of music is called the steady beat. To learn the difference between a steady beat and rhythm, four heart shapes were displayed on the Smart Board to represent the beats. Next, the class thought of one-syllable and two-syllable words using a Valentine's Day theme.
"I introduced students to music symbols including quarter notes (paired with our one- syllable words that we refer to as "ta"), paired eighth notes (referred to it as "ti-ti"), and quarter rest (known as "sh") using simplified notation," Nichols explained.
To compose their own musical valentines, students used small Popsicle sticks arranged on laminated heart shaped cut-outs which represented the four steady beats. They wrote one-and-two syllable words below the accompanying musical notes to create their song. When delivered to fellow classmates, students also performed the musical valentines.
Singing the book "There was an Old Lady Who Swallowed Some Roses" by Lucille Colandro and learning the lyrics and melody to Woody Guthrie's song "Mail Myself to You," were also tied to the Valentine's Day themed music lessons.
"The students all walked out of class singing 'Mail Myself to You' and enjoyed composing and receiving "mail"/musical valentines from one another," Nichols shared.