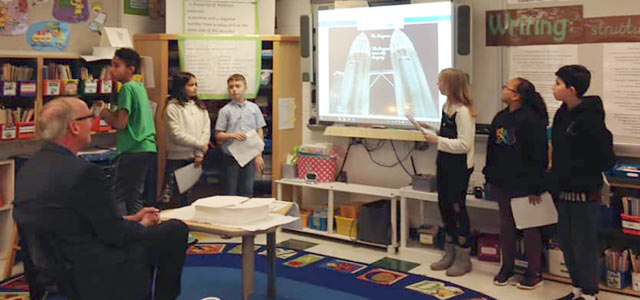 Mock architectural firms comprised of Coles Elementary School students presented to Michael Cleary,  corporate vice president of purchasing, quality, and safety at Stanley Martin Homes. The hands-on project allowed students to apply what they have learned about architecture.

The presentations by fourth-grade students to Cleary offered the opportunity to receive feedback from an experienced architect. Fifth-grade students presented to Matt Guilfoyle, PWCS associate superintendent for communications and technology services.
"Adult professionals help students process their thinking while asking questions and making observations from their own knowledge base. The students came away from their presentations with a broader understanding of architecture, their mistakes during the design process, and respect for accomplished adults," Instructional Technology Coach (ITC) Meaghan Martin explained. Martin supported the technology integration for the projects with Deb Ellefson, gifted resource teacher, who taught the architecture unit.

The objectives of the architecture unit include learning the basics of architecture and how to go through the engineering design process to build a structure that uses the knowledge that the form of a structure follows its function. The mock architectural firms encouraged students to collaborate while using creative and critical-thinking skills to construct a building of their choice.

Students used a free trial of the software SmartDraw to create a design to scale for their building and landscaping. Fifth-grader Zoe Brenner's group designed a movie theater with a diner and arcade. She served as the general contractor and worked closely with classmates Kailynn, the chief architect, and Lovisa, the interior designer.

"We used I.M. Pei's idea of pyramids for our roof and walls." Magaly was the group's landscape architect. She took on the task of creating a safe pedestrian walkway and a park. The group faced challenges that included their roof falling and how big to make their park.

Fifth-grader Bryce Moore's group designed a town hall based on the work of famed Architect Frank Lloyd Wright. "We made our building stand out a little bit, but we used his love of nature to make our building fit in with nature," Bryce added, "Making the roof had many challenges, but the main one was making sure it didn't cave in, which it did many times."

Students also created a webpage that introduced each member of the firm, communicated awards that their firm had won, and included a blog that conveyed the process of their building's design process.