During their last regular meeting, members of the Prince William County School Board were surrounded by student-made cards, banners, and gifts of appreciation. February is School Board Appreciation Month.

After pointing out the wonderful expressions of appreciation by our students and schools, Dr. Steve Walts, Superintendent of Schools, shared his gratitude for the PWCS School Board.

"I send my sincere thanks and appreciation to each of our School Board members for the work they do on behalf of our students, staff, and schools," he said.

School Board Appreciation Month is initiated each February by the Virginia School Boards Association (VSBA). This year's theme, Excellence Through Equity, reflects the top priority of local school board members as they advocate for public education with local, state, and federal leaders on behalf of all students.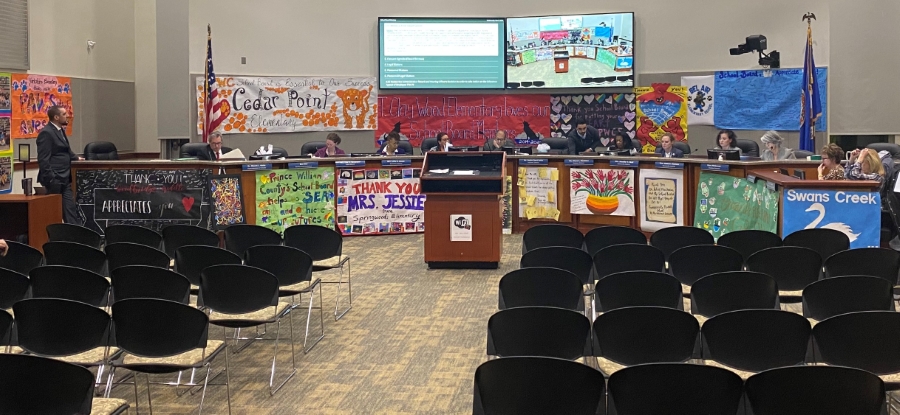 The job of School Board members is to establish a vision for the education program, design a structure to achieve that vision, assure schools are accountable to the community, and strongly advocate continuous improvement in student learning. That job entails attending an endless string of meetings and school functions; reading and studying reams of reports, agendas, proposals, and other information; and making a host of difficult decisions.

Thank you PWCS School Board Members: Dr. Babur B. Lateef, Chairman At-Large; Loree Y. Williams, vice chairwoman and representative for the Woodbridge District; Adele E. Jackson, Brentsville District; Lillie G. Jessie, Occoquan District; Diane L. Raulson, Neabsco District; Jennifer T. Wall, Gainesville District; Justin David Wilk, Potomac District; and Lisa A. Zargarpur, Coles District.