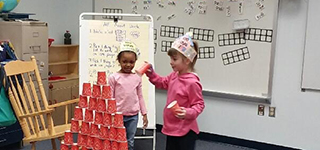 Towers made of snap cubes; "kingdoms" out of Legos®; igloos made of stacked cups; craft-stick pentagons, hexagons, heptagons, octagons and other basic shapes; and towns with blocks filled the kindergarten classrooms at Springwoods Elementary School. In a celebration of the 100th day of school, students worked collaboratively with their partners, trying out ideas and helping one another as needed.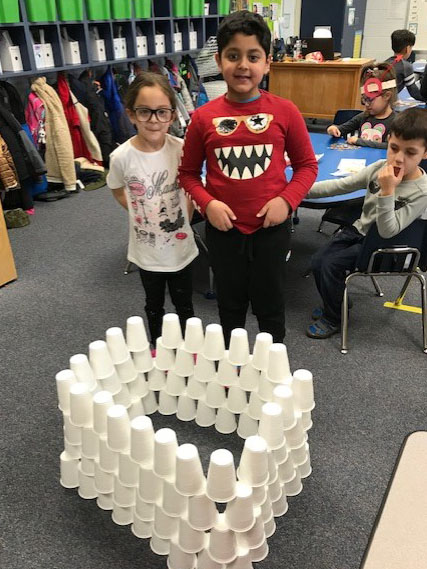 Students created castles, walls, and towers with 100 cups. They used 100 dominoes to build mazes, shapes, and houses. They took turns rolling dice and "racing" to 100 on game boards. They incorporated 1-0-0 into their pictures of flowers, barbells, monster trucks, and butterflies. They used 100 snap cubes to create patterns, towers, and shapes. They created fences, houses, flowers, and letters with 100 craft sticks. 
"It was wonderful to see how engaged and confident the students were as they decided how to best use the given materials," said Patricia Buswell, kindergarten teacher.
The Science, Technology, Engineering, and Mathematics (STEM) day celebration was a hit with the students. More than one student remarked, "This is the best day ever!" 
Teresa McFadden, kindergarten teacher, said, "They loved being creative and using their imaginations while working together as different construction crews throughout the room."
Turning a milestone in the school year into a fun day of learning is an example of PWCS teacher dedication to our students' learning.