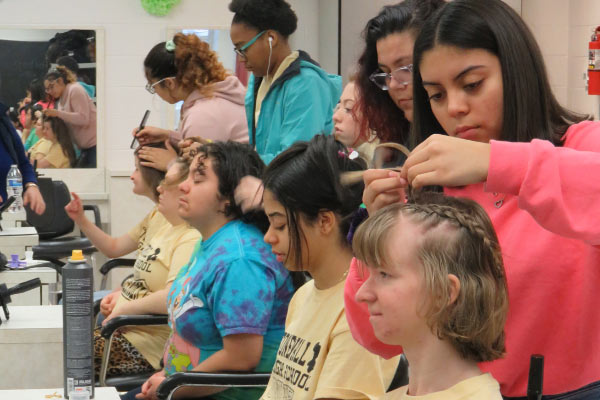 Big games bring schools together. The sights, the sounds, the fans, the players, the cheerleaders, and the coaches each add elements that make such events memorable. At Stonewall Jackson High School, you can also count the cosmetology students in among those who played a key role in making the unified sports basketball season one to remember.
"With unified this year, we worked with the cheerleaders to get their hair done prior to the games," explained Cosmetology Teacher Elizabeth Payne. "We would have groups of cosmetology students style the cheerleaders hair and then place their cheer bows for them. We also had one of our students work with the cheerleaders during the games and four additional students who worked with the basketball team during the games."
Stonewall Jackson High is thoroughly embracing the unified sports mission of inclusion. "Our cosmetology students work very closely with our special education department every year," said Payne. The students enjoyed doing spa days together and getting ready for the unified basketball games with the cheerleaders who in turn benefited from a space to practice life skills such as folding towels and maintaining the cosmetology stations.
Unified sports provide experiences where stereotypes about people with intellectual disabilities are broken down and everyone involved learns and grows.