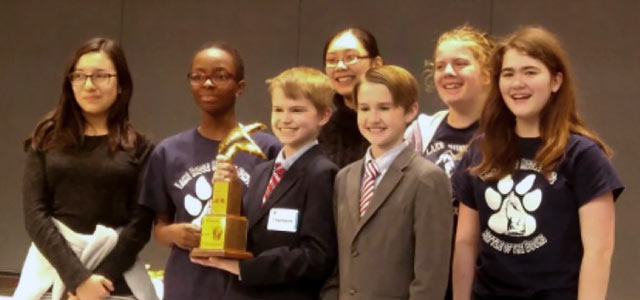 Lake Ridge Middle School brought home the championship trophy after winning this year's Piedmont Regional Battle of the Books Tournament. Eleven middle schools from Prince William County Public Schools were among the 30 schools in the region who participated in the literary comprehension event held at Gainesville Middle School.
Lake Ridge Middle sent 14 students (two teams of seven) and Team Awesome Charts claimed top place, earning over 1000 points. The teams are coached by librarians Dawn Farrell and Kathleen O'Connor, and Library Media Assistant Johana Prado.
To prepare, students spend the year reading, studying, and re-reading 20 books selected by the Battle of the Books committee. The books are representative of different genres including non-fiction, mystery, and historical fiction.
At the competition, a panel of judge asked student teams questions referencing content from the 20 books. The Battle of the Books tournament consists of three categories: multiple choice, round-robin battles, and a quote Identification round.
Battle of the Books is a national program whose mission is to expose students to excellent literature, foster a love of independent reading, and provide a competitive alternative to athletics.
Teams from the following PWCS middle schools also participated in the tournament: Benton, Gainesville, Hampton, Parkside, Pennington Traditional, Porter Traditional, Reagan, Saunders, The Nokesville School, and Woodbridge.
Congratulations! You make us #PWCSProud.