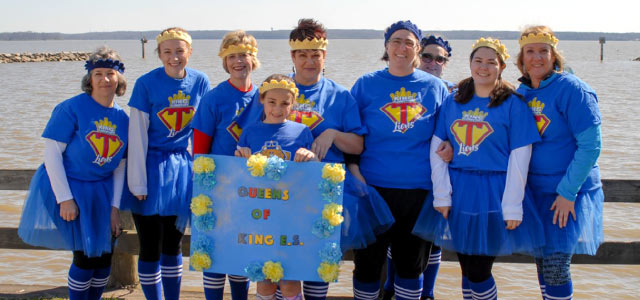 Dressed in blue tutus, leggings, t-shirts and wearing crowns, the Queens of King E.S., as they called themselves, braved the cold air and even colder water temperatures to take the Polar Plunge at Leesylvania State Park in Woodbridge. This annual event is coordinated by the Prince William County Police Department.
King Elementary School ESOL (English as a Second Language) Teacher Donna Hessein served as the team leader. She was joined by second grade teachers, Amanda Water and Andy Yost, third grade teachers, Sarah Morgan, Jennifer Dittamo and Donna Carroll, and Kristin Blais, kindergarten teacher assistant. Neabsco Elementary School First Grade Teacher Kelly Smith and Hessein's granddaughter Sofia, a second-grader at King Elementary, were also on the team.
Polar Plunge events are hosted around the state to raise money for Special Olympics Virginia. Through advertising on social media and the King Elementary morning announcements, the Queens of King E.S raised $917.
When asked why she volunteered to lead a team, Hessein said "One of our special education teachers has been focusing on diversity, inclusion and building unity. This was a great way to incorporate these ideas."