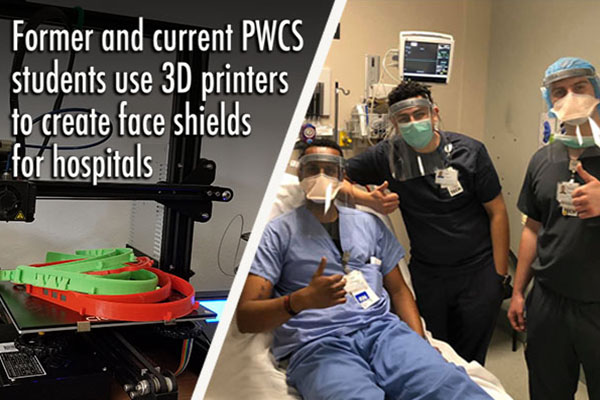 Due to COVID-19, personal protective equipment (PPE) for health care workers is in short supply. Hospitals are reaching out for donations of masks, gloves, hand sanitizer and face shields. Some current and former PWCS students are stepping up to help by creating protective face shields using their 3D printers.
Two Forest Park High School students, Thomas Byrne and Desmen Boykin, are using their skills to 3D- print face shields for medical personnel. Boykin has a sister who is a surgical nurse at UVA Hospital in Charlottesville, VA. He is concerned for her safety at work. This led him and Byrne to start 3D- printing face shields themselves in their homes.
Byrne and Boykin want to do their part to help during this crisis. They are spending part of their days off from school serving the community in this way. Each face shield takes approximately an hour and a half to produce. So far, they have produced over 40 face shields. These shields are being sent to UVA Hospital and others. They have had requests from as far away as New York.
Cynthia Kirkland, a 2007 graduate of Woodbridge High School, is a member of a group creating medical face shields to donate to hospitals. While attending Woodbridge High, Kirkland took Career and Technical Education (CTE) classes on Auto CAD, focusing on computer drafting. From that class she learned a basic understanding of how product design and drafting worked digitally and she carried that into her career.
Kirkland is currently a costume maker for Walt Disney World in Florida where they use 3D printers, vacuum forms, and laser cutters in craft and technician rooms. She also owns a 3D printer. Kirkland wanted to help during the PPE emergency but wasn't quite sure how. A friend told her that there is a desperate need of face shields for health care workers.
Kirkland said, "I saw a 3D model of the face shield and immediately knew it was something that could be easily printed and produced".
Kirkland started printing face shields and donated some to The George Washington University Hospital where her friend's sister is a nurse. She then mobilized others with 3D printers to join a Facebook group she created called Print the Curve Flat. This is a group of citizens with 3D printers answering the call for PPE during the COVID-19 crisis. These volunteers are nationwide and sending the much-needed supplies to hospitals across America. The Print the Curve Flat printers expect to not stop printing face shields until medical staff can get the bulk distributions needed to stay safe in their workplace.
"I feel that even though we are providing small quantities, our care packages are a way to boost morale for medical staff on the front lines. I want the packages to say, we hear you," shared Kirkland."
The work of our former and current students makes us PWCS Proud!