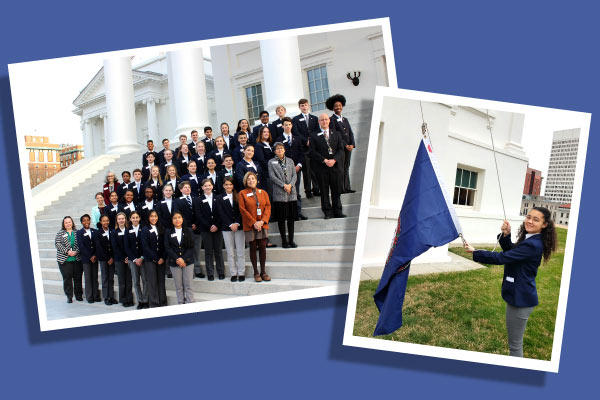 When Ronald Wilson Reagan Middle School student Annika Holder set out for Richmond in January on the adventure of a lifetime, she may have anticipated her life was about to change, but she can't possibly have known her experience would provide a new sense of purpose soon after a world crisis and time of unexpected isolation.
Last fall, Holder was chosen as one of 40 middle school students in the Commonwealth to participate in the 2020 Senate of Virginia Page Leadership Program. To be eligible, 13- or 14-year-old students submit online applications, letters of recommendation, a school endorsement, an essay, and a resume showing their extracurricular, academic, and civic activities. Despite the rigorous demands of this college-prep style program, Holder was one of only two participants who received the Best Pages All Session Award.
Senate pages leave home the second week in January when the legislative session opens and live and work in Richmond during the week until session closes in March. They work an 8:30 a.m. to 5 p.m. schedule Monday through Thursday, with half days on Fridays, allowing for travel home on weekends. Pages serve various assignments at the Capitol, such as assisting legislators delivering messages and packages, filling in for aides, pulling bills, helping staff committee meetings, answering phone calls, providing basic concierge services, and speaking to the public or visiting delegations about their experience and roles.
Holders said she usually stopped by her school on Friday afternoons to pick up homework and materials from teachers and see friends, which helped make the time away more bearable. While she learned a lot, including the ins and outs of the legislative process, and the importance of tolerance and civility in the political environment, Holder said she most enjoyed the professional development opportunities, networking sessions with legislators and public officials, and the excitement of working on the Senate floor.
"This experience was an eye-opening one for me," said Holder. "I was made aware to the political climate of Virginia and to the political, economic, and moral opinions of young people my age around the state. It left me with a new growth mindset and a new perspective on my future.
"Since I've been home from the page program, I realized how structured it was in comparison to school and home," Holder said about how she spends her days in isolation. "My sense of punctuality and organization is much better after spending three months under constant observation. At home, I've been continuing to refine my artistic skills and practice my violin. I've begun a free online program to teach fifth graders pre-algebra and prepare them to take advanced classes in middle school. I have biweekly lessons, so that keeps me pretty busy on its own. I wanted to give back some of the educational experiences I got at the page program, and this is my way of doing it."