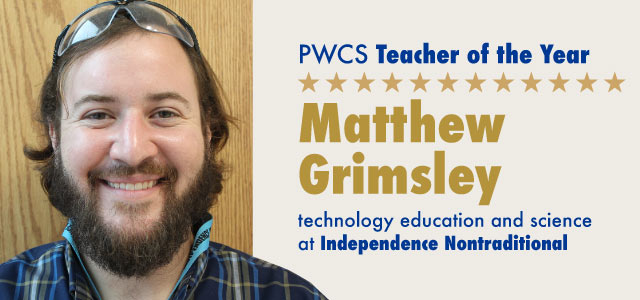 Prince William County Public Schools (PWCS) is proud to announce Matthew Grimsley as the 2019-20 Teacher of the Year. Matthew Grimsley will represent PWCS in The Washington Post Teacher of the Year competition.
Grimsley is a high school technology education and science teacher at Independence Nontraditional School. He has worked for PWCS since 2008, and created Independence Nontraditional's first Career and Technology Education (CTE) program. He also created new course offerings, unique learning opportunities, and sustainability programs for the most underserved students in PWCS.
"Mr. Grimsley is so deserving of this award and I am very proud of his leadership and his support of our students at Independence Nontraditional School," said Dr. Steve Walts, Superintendent of Schools. "He facilitates new instructional opportunities that benefit students and peers, and he has established numerous programs to better the school and our community."
Grimsley is an award-winning teacher who serves his community and school as a mentor, coach, and leader.
"It is an honor to serve my students at Independence Nontraditional School in technology education and earth science," Grimsley said. "I am humbled to be nominated as Prince William County Public Schools' Teacher of the Year. My goal is that every student who enters my room feels safe and valued, and ultimately leaves learning how to take a logical approach when it comes time to make decisions and solve problems in the real world. I could not have had the successes in my career without my school family at Independence, my wife and daughter."
Independence is the first nontraditional school in PWCS for students from kindergarten through age 22. Grimsley has made it his goal to provide meaningful educational opportunities for these students and has been instrumental in helping the students at Independence not only graduate, but also be prepared to succeed after high school.
Grimsley began his teaching career at New Directions Alternative Education Center in 2008. He holds a bachelor's in geology and a master's in secondary education. He also holds endorsements in the areas of earth science and technology education.
Teacher and Principal of the Year selections were made prior to the outbreak of COVID-19. PWCS was originally planning to recognize these outstanding award-recipients and our teachers who achieved National Board Certification at an event that has now been canceled. Pleas
e join us in recognizing all of our nominees for Teacher and Principal of the Year
and our National-Board Certified Teachers.