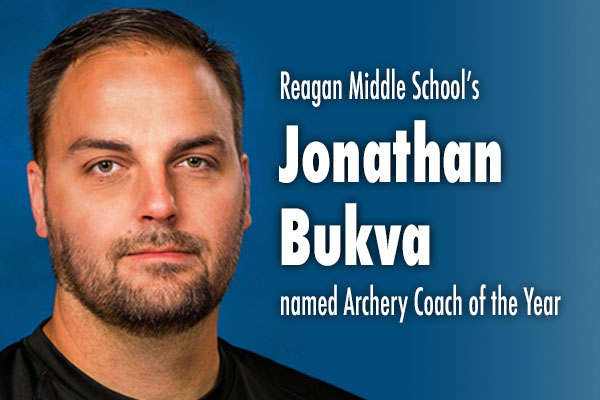 Ronald Wilson Reagan Middle School Archery Coach Jonathan Bukva was chosen as the recipient of the National Archery in the Schools Program (NASP) 2020 Coach of the Year Award. As a part of the NASP's "On Target for Life" Awards and Recognition Program, the Coach of the Year is a special recognition given to educators or coaches who have demonstrated a significant positive impact in the lives of students who participate in the program. The award also includes a monetary grant of $500 for equipment.
"Reagan Middle School's archery team has had great success over the past years," said Amy Thurston, parent of a student archer at Ronald Reagan Middle. "I am happy that Coach is being recognized for this national award."
The NASP was founded in 2002 and has implemented a program of awards and recognition as a way to capture outstanding examples of participants of the program in 47 states and 11 countries. The in-school program is geared toward students in grades 4-12 and has the goal of improving student performance through the skills taught in archery. From the program's mission, characteristics such as, "focus, self-control, discipline, patience, and the life lessons required to be successful in the classroom and in life" can be found through archery. The program is inclusive of students from all backgrounds and brings them together as team.
View the NASP's official announcement of the 2020 winners of the "On Target for Life" Awards and Recognition Program.