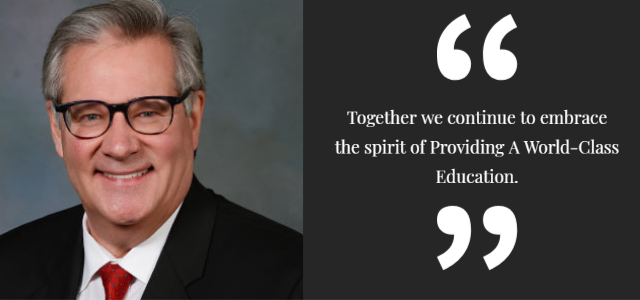 Dr. Walts School Board Pandemic Talking Points 4/1/2020
Please find the following remarks shared by Dr. Steve Walts, Superintendent of Schools, during the April 1, 2020, School Board meeting. These remarks include the current response to the pandemic. Please note details regarding the learning plans will be shared with families in the next few days.
Good evening Chairman Lateef, Vice Chairwoman Williams, and School Board members.
I would like to begin by acknowledging the unprecedented and remarkable time in which we are living.
It cannot be understated that we are truly in a life or death situation.
In fact, the President has said in a best-case scenario we may have 100,000-200,000 deaths nationally.
Since the beginning of this crisis created by the global COVID-19 pandemic, my highest priority, and that of my staff, has been to ensure the safety and health of our students, staff, and families.
Our hearts go out to those families in our area and across the country who have been impacted by the COVID-19 virus, both in terms of health and economically. Especially those who have lost loved ones, such as Loudoun County Schools losing Susan Rokus, a long-time beloved teacher.
We are blessed to announce that at this time, we have not lost any PWCS employees, students, or PWCS parents or guardians, to this horrible disease to the best of our knowledge, and we pray it continues.
As you know on March 13, I ordered the closure of Prince William County Public Schools to students and staff through Spring Break.
My announcement was soon followed by the Governor of Virginia's order to close schools through March 27.
On March 23, the Governor announced the closure of schools through the end of the academic year.
Given the challenging period in which we are living, it feels as though that announcement was a lifetime ago.
However, it's very important to remember the Governor announced the closure of schools through the end of the academic year only a little over a week ago.
Tonight, I will address our actions to date, and discuss our plans for the remainder of the school year. Please know that I will address all the items on the Board agenda, but not in the specific order listed. I will also provide a copy of my remarks to you.
I want to thank the remarkable achievements accomplished by our Prince William County Public Schools employees since the announcement on March 13.
Staff have been working around the clock since before March 13 - a special thank you to Denise Huebner, who has led our pandemic planning and response team, along with the entire Superintendent's Staff who have been working tirelessly to adjust all our operations in a very short time period.
On Friday March 13, we saw remarkable achievements by our schools to equip students as rapidly as possible to be prepared for the closing.
For example, schools were giving out computers that they had available to their students, and some schools emptied their entire library to ensure students had reading materials for the closure.
I want to thank our custodial crews who came to work the weekend after the closure and cleaned our schools for days to ensure that they were clean and safe. And thank you to our employees and contractors involved in school construction.
Additionally, our food service staff, working with our school teams, has accomplished monumental work in a very short time period.
Since we closed on March 13, our food service staff, led by Al Ciarochi and Adam Russo and supported by school staff, have provided more than 118,000 to-go meals at 19 sites throughout the county.
I know that some have suggested the use of buses. We have researched this idea and have chosen not to pursue for safety and health concerns. In looking at this model in other nearby school divisions, we have seen students crowded together in neighborhoods waiting for bus arrival - this is a serious health concern and would endanger students, staff, and families.
However, our food service staff continue to monitor usage and target underserved areas, which has included continuously adding new locations and expanded hours. We have plans to add three more locations next week, Potomac View Elementary School, Saunders Middle School, and River Oaks Elementary School on April 6.
We also want to thank Delegate Danica Roem, and our local congressional delegation, for leading the push to eliminate a nationwide USDA requirement that students be present to get their meals.
Thanks to our local leaders, this rule has been waived nationally and now we can provide meals to parents or guardians who provide a list of their children and appropriate ID. This allows children who may have a health concern to stay safe at home.
Speaking of student health, I want to acknowledge our nurses, who were ready to lead efforts to address this pandemic. Within two business days of our closure, our nurses had coordinated a medication pick-up for all our families.
Additionally, I am proud to announce tonight that our student health team, in coordination with Dawn Davis, our executive director of the SPARK Education Foundation, will be providing a few thousand surplus masks to local hospitals, including surgical and N-95 masks.
We support our local health provider partners and applaud their efforts to help our entire community during this pandemic.
Ms. Davis and SPARK are also working with those individuals who have expressed an interest in donating time, expertise, or money to the School Division. Dozens of people have pledged to help and more than $3,500 has been donated in just the past week.
Also, as part of our SPARK work, the Virginia STAR computer refurbishment plan, which is coordinated statewide through SPARK, will be working with schools to provide hundreds of computers to families in need.
Supporting our students and families' physical and mental health during this time is critical. I want to thank our counselors for doing a remarkable job in adapting quickly to support our kids.
Within just two business days of closing, our counseling staff developed a means to provide emotional support for students during this stressful time. Students can email our counseling staff at StudentSupportServices@pwcs.edu to receive virtual support.
Our counselors and other school-based mental health staff will respond to any student who needs assistance.
I care deeply about our students' emotional well-being during their time away from school, and we want you to know that we are only an email away.
Perhaps some of our most devastated students are our high school seniors.
I personally shared a video message to all our students, to reassure them, as I know what an incredible disappointment this must be.
As I said to our seniors, if they were on track to graduate, they will graduate. If they needed extra help to graduate, we will work with them to get the support they need.
Our counselors will be reviewing every senior's grades and will be reaching out to those who may need additional support.
I know our seniors are disappointed that in-person graduations in May and June are canceled. I want to thank the community for the many creative ideas we have received.
Our high school principals have been working together virtually to discuss potential alternatives, including virtual options, or potentially an in-person graduation in early August. However, we will need to wait to see how the pandemic progresses until we settle on any in-person option.
Beyond supporting our students, I want to thank our Human Resources and Finance staff, who have moved mountains incredibly quickly - all while adhering to physical distancing requirements.
From the first day of closure, we announced that we would pay all active employees.
Our staff have worked incredibly hard to ensure we are consistent with evolving federal and state laws, and guidance from the Virginia Department of Education.
We have managed to continue to pay, hire, interview, and support our employees, all from a virtual setting.
Again, it is important to note this shift was done nearly overnight.
Recognizing our critical role in supporting the community, including our local businesses, we have also implemented a plan to ensure that bookkeepers at every school and central office are collecting those bills and paying them on time. I want to thank them all for their hard work.
I also want to thank our instructional staff, who have made remarkable achievements in a very short period. This includes all of our teachers, principals and other school administrators, and our central office Student and Professional Learning staff.
In fact, our Supervisor of Social Studies, Jeff Girvan, has been asked to help the Virginia Department of Education and serve on a statewide Continuity of Learning task force.
As I mentioned earlier, on March 13, our instructional staff, both at the Division level and in schools, worked to provide learning resources for students to take and use at home.
Five business days after closure, we launched a PWCS Home Learning page including online academic resources, suggested free apps, offline activity ideas, optional daily schedules, and parent tips.
I am now pleased to provide further details to you regarding our grading and learning plans for the remainder of the school year.
We are rolling our plan out starting with my update to you now.
We will be working with principals starting April 2, then our teachers, then families, to communicate these details this week. The next phase will immediately follow.
Before I get into the details, I want to again stress the point - we are in the middle of a global pandemic, and people are dying locally and nationally.
My highest priority remains the physical and mental health of students and staff.
It is simply not fair, nor realistic, to expect our teachers, students, and administrators - or families - to replicate the school day at home.
I want our teachers to know, our students to know, and our staff to know - it's okay.
We are all in this together - we will work together to do the best we can to support one another - and that's what matters.
So, let me outline for you our learning and grading plan for all of our students through the end of this academic year.
First let me discuss grading, given this remarkable time we are in, it is my expectation that we provide students with as much latitude and grace as possible.
It is important to note that the Virginia Department of Education has recommended not grading any material provided after March 13.
So, we will be issuing grading directives April 2 with this in mind.
Here are the details:
Marking periods one, two, and three will be graded. The sum of the grade for each of the three quarters will be divided by three to determine the final grade.
But in order to maximize the flexibility for students to raise their grades, we will extend the third quarter until April 24, 2020, and students may continue to redo assignments or retake assessments assigned prior to March 13, 2020.
Student's grades will only be able to go up from where they were on March 13.
Again, consistent with Virginia Department of Education grading guidance, the fourth quarter will be ungraded and remain a period of optional distance learning for students both online and offline.
All students will be able to continue to submit optional work that will support completion of graduation requirements or demonstrate mastery of a subject.
Consistent with our current grading regulation, to ensure that the final grade accurately represents the student's achievement and progress, the final grade may be modified by the teacher to improve the student's grade up until the end of the academic year.
Spring graduation status will be finalized for all seniors as of May 29, 2020.
All other students will continue to learn online or through other offline distance learning resources through June 12, 2020.
So now let me outline how we will support teachers and students to achieve this vision.
Our continuity of learning plan has six parts. The focus is on supporting our teachers, students, and families.
As I mentioned, our first phase was on March 13 when we sent books, materials, and instruments home prior to the closure of schools, to the best of our ability.
Let me pause here for a moment and say that I know many students and staff want to get into buildings to retrieve things. However, the safety and health of our students, staff, and our community is my highest priority, especially when COVID-19 cases are currently increasing exponentially.
With this in mind, at this time, I cannot open our buildings to staff or students wishing to pick up belongings. In order to prevent community spread of COVID-19, PWCS is following the directive of the Governor of Virginia, the guidance of the Centers for Disease Control and Prevention, as well as other state and local health officials, which is to stay at home as much as possible at this time.
Allowing access into classrooms or lockers increases health risks for everyone and would require greater areas of buildings to be cleaned by staff. The buildings are secure, and items are safe.
We will continue to monitor the pandemic and adjust these restrictions as needed in the future.
Again, as I mentioned, our second phase of our learning plan, was the development of the PWCS Home Learning webpage.
In the past week we have been focused on our third phase of learning, which is preparing for our teachers to provide more support for learning from home.
We know that we will need to deliver learning opportunities primarily online through the remainder of the year, with additional learning resources provided to those students without technology.
We need to first equip all our teachers, in all subject areas, with the tools and content necessary to be successful.
To support our teachers, our department chairs, lead teachers, and supervising administrators they were provided resources and encouraged to share them with their colleagues in their school.
Virtual professional development has been conducted for teacher leaders to share materials, resources, and professional learning opportunities developed and organized to support them.
Content and Program Supervisors have developed a calendar of virtual support sessions for teachers by grade level and course.
Additionally, our instructional coaches and instructional technology staff have been developing virtual learning best practices videos for teachers to reference.
Instructional technology staff are working with principals to ensure that every teacher has a computer with internet at home, as we had hundreds who did not.
In order to make online learning more consistent and easier for students and teachers, we will be deploying an online Learning Management System called Canvas to all teachers.
This system will enable teachers to share lesson plans and integrate digital tools, like videos from Discovery Education. This will also tie into The Hub to help teachers with their classroom management.
Much of this was part of our Digital Equity Plan presented to the Board a few weeks ago during our FY 2020-21 budget work sessions - we are now accelerating a multi-year plan into just a few weeks.
While we have focused on professional development and resources, it is important to note that most of our teachers have already begun updating students daily via existing tools and class pages and technology platforms.
Beyond supporting our teachers, we of course must equip all of our students to the greatest extent possible, with the technology for online distance learning.
To this end, I am pleased to announce that using a combination of existing technology funding and flex funding - we have placed an order for more than 15,500 HP Touchscreen laptops for our students.
We needed to place this order immediately as we received word that a surge in buying of computers by schools across the country could make receiving them difficult.
We appreciate the School Board collaboration with the Board of County Supervisors to seek additional funding for more computers, and if that is achieved, we will order additional computers to support more students.
While we expect to get these laptops into student's hands by May - we are not waiting until then.
Our IT department, is working around the clock to enable all our business and learning functions online. They will be surveying families via phone in home languages, starting with high schools to determine any families in need of devices at home.
The IT department will then work to use any laptops or tablets in schools currently to fulfill the immediate need. As we are able to help students without devices, we will work down through grade-levels as far as possible depending upon the resources we have.
The IT department is also working to make outdoor Wi-Fi hotspots available at as many schools as possible, so students could login if needed. We also will promote low cost options for internet, and provide at home hotspots as we are able.
Upon teachers return from Spring Break, we will implement phases four and five focused on home learning and our Virtual Schoolhouse.
At the elementary level, principals will develop a weekly schedule that assigns each subject 60 minutes of combined student review and student learning time per week, with one 60-minute block available for designated virtual "office hours", and one 60-minute block for school counseling or other selected classes or activities.
At the middle level, principals will develop a weekly schedule that assigns each subject 90 minutes of combined student review and student learning time per week, with one 90-minute block available for designated "office hours", and one 90-minute block for school counseling or other selected classes or activities.
At the high school, principals will develop a weekly schedule that assigns each subject 120 minutes of combined student review and student learning per week, with one 120-minute block available for designated "office hours", and one 120-minute block for school counseling or other selected classes or activities.
Teachers and counselors will advertise virtual "office hours" and the method for reaching the teacher/counselor at the specified time for academic help and support.
Schools will be required to adhere to the time allotments and to communicate the schedule they decide to their communities, in a variety of ways and in the required languages.
Teachers will continue to support students in improving their third quarter grades by redoing assignments and retaking assessments which were assigned or administered prior to March 13.
We will conduct virtual training on Canvas for instructional staff.
All teachers will continue uploading content review instructions, lessons, and assignments as well as learning resources/activities according to the advertised phase four Virtual Schoolhouse and rotation guidance.
Teachers already using platforms other than the class webpages will continue to do so.
Teachers can assign or provide feedback along with continued guidance and support for students on extended offline learning personal projects.
On May 1, seniors with all graduation requirements satisfied will be declared to have met all graduation requirements.
Seniors with remaining requirements will be granted an extension for credit recovery.
In May and June, we will implement our final phase six, where we will begin the K-11 student learning plan using the Canvas learning management system.
On May 5*, third quarter report cards will be distributed.
We will continue to provide at-home distance learning options through Canvas for K-11 using either personally owned or Division distributed devices, as well as through offline correspondence.
On June 5, seniors who have remaining graduation requirements will complete submissions of remaining work.
Finally, on June 12, K-11 home learning concludes, and diplomas will be mailed to graduates. As I mentioned earlier, we will continue to seek methods of celebrating our graduates either virtually or in-person.
Teachers of students with disabilities and teachers of students who are English learners (EL) will offer virtual support at specific communicated times as well as ensure they are fulfilling the ongoing expectation that they continue to co-plan for supports, scaffolds, and accommodations for their students.
In support of the full-range of learners, gifted education teachers will also do the same. While every support given to students in a face-to-face setting may not be possible, it remains our intention and expectation to make a good faith effort to provide every virtual/distance learning support possible to our students during this unprecedented time.
As before the closure, EL teachers are expected to continue to co-plan and co-teach with their general education and special education colleagues as appropriate to support the ongoing learning of EL students.
EL students will continue to receive English Language Development support that focuses on reading, writing, listening, and speaking.
Our Office of EL Programs and Services has prepared virtual resources to help our teachers in supporting and staying connected to our EL students and families during this time of distance learning.
The specialists within the Office of EL Programs and Services are holding virtual office hours to further support the continuity of learning for our EL students.
Additionally, special education teachers continue to collaborate with general education teachers to provide support for our students with disabilities.
Related service providers are collaborating with general education and special education teachers to provide overall and/or student-specific resources and activities. The Office of Special Education will continue to explore how our related service providers can best support our students, while complying with the Governor's stay at home order.
Case managers and special education service providers will continue to communicate with parents and guardians.
Information and instructions for staff have been provided through email, video, and direct communication from our Associate Superintendent and Director of Special Education.
Supervisors and coordinators will continue to provide guidance through regular virtual meetings to ensure schools are supported and have clear guidelines.
Special education meetings will continue to take place virtually to meet required IEP timelines and compliance requirements.
We are making resources and strategies available on the Division webpage to assist staff and parents with students with the specific needs of our special learners. This includes resources for students accessing the general and adapted curriculum.
Due to challenges related to the global pandemic, and the Governor's stay at home order, it will be necessary for our special education teams to adapt how we support our students.
As we ensure the safety and well-being of our students - our local, state, and federal leaders recognize that services on IEPs and 504s will not be met in the same way they would if schools were open.
Our team members will continue to work to find alternative methods and positive proactive strategies to continue engagement in learning for our special education students.
So, as you can see from this plan, we do not have a change to the calendar proposed.
I know there have been many questions regarding summer school and other enrichment. We are considering all options and will update the Board as we are able to finalize those plans. Much of that will depend in part on the status of the pandemic and if we need to utilize primarily virtual or remote learning, or if we can allow staff and students back into buildings.
We will also develop plans to maximize the first few weeks of the new school year for potential review of learning material from this school year if needed.
As I wrap this up, I want to remind the School Board and the community that we will continue our robust communications on all of these plans in the days and weeks ahead.
Thank you to our incredible Communications staff, as well as our Translations Office, as you know, we have sent more than 26 updates to the community and nearly twice that many to the Board since March 13. These were also sent in all the home languages and through various platforms including email, text, social media, and home phone. And we will continue to do so.
I encourage our families and staff to wait until you receive all this information, before sending questions. Please allow our school leaders time to digest all this information, as well as our teachers until after Spring Break.
Once you receive this information, we encourage students, parents, or guardians to contact their teachers or school. Such as contacting your teachers or counselors through communication such as email, StudentVUE, or ParentVUE. Employees should work through your principal or supervisor.
I hope everyone is able to have a restful Spring Break next week at home. We will honor Spring Break for employees and families as planned. Please know that while most staff will be off next week as scheduled, School Food and Nutrition Services will continue to serve meals during Spring Break.
I want to conclude by thanking everyone - all our employees, our School Board, our families, and our students. This is truly a team effort of everyone.
Together we continue to embrace the spirit of Providing A World-Class Education.
As we have worked on kindness initiatives this year, in fact I celebrated Kindness Day this year with hundreds of students at Patriot High School, please remember Kindness Matters! Make kindness the norm.
Please be kind to one another, show patience, support one another, and be willing to be flexible and patient.
And that while we must remain apart physically - we will get through this together in collective community spirit.
Thank you.
*Updated from May 4.