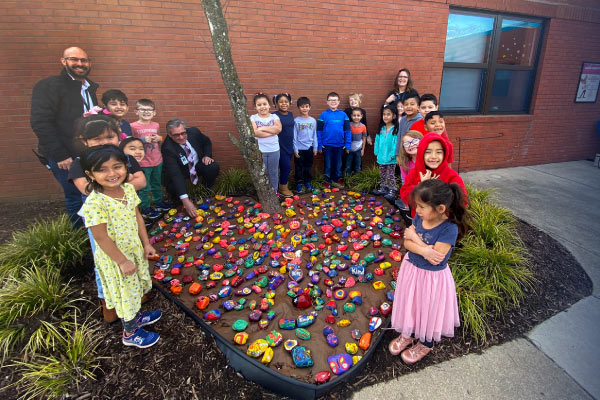 This story features a learning activity that took place prior to school closures due to COVID-19.

First-graders at McAuliffe Elementary School learned about the importance of friendship and the power of perseverance from a rock named Ricky. The fictional character became the inspiration for a rock garden at their school.
Ricky is the main character in Author Jay Miletsky's, "Ricky the Rock That Couldn't Roll." In the book, Ricky is different from other rocks. He is flat on one side, which prevents him from playing and rolling around with his friends on their favorite hill. While reading the book, first-graders learned that Ricky's rock friends were determined not to leave Ricky behind.
To relate to the lessons in the story, Librarian Janelle Jampole asked students to paint a rock and add it to a "Kindness Rock Garden" in front of the school. The rocks turned out so well that Superintendent of Schools Dr. Steve Walts came to see the rock garden. Students invited him to paint a rock of his own and place in their kindness garden.
Families were also invited to participate. They were asked to find a rock, paint it and bring it to school to add it to the garden. The activity has created quite a colorful garden of rocks. All thanks to a rock named Ricky.