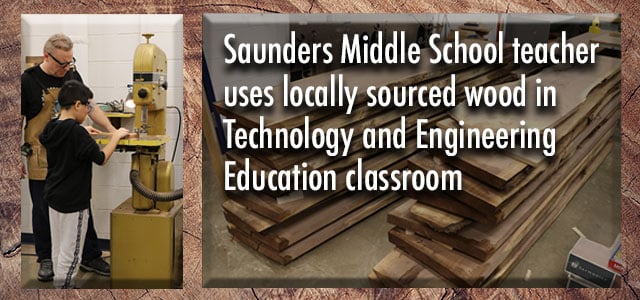 This story features a learning activity that took place prior to school closures due to COVID-19.
Carl Mainwaring, a technology and engineering education teacher at Saunders Middle School, is using locally sourced wood in his classroom for student projects. Instead of purchasing wood, Mainwaring has a friend with a tree-milling machine. They cut and mill the wood themselves for classroom use.
Friends and parents alert Mainwaring of a tree that has fallen or needs to be removed. If it is wood that can be harvested and used, Mainwaring and his trusty chainsaw go to work. Recently he cut down a walnut tree that was milled into 42 slabs of lumber. Each piece is 2 inches thick and 9 feet long. The retail price of those walnut slabs would be over $30,000. When it dries out enough in a couple of months, his students will use that wood in projects to take home.
Mainwaring explains to his students the process of how wood from the local area can be sourced and used for them to enjoy. He takes pictures and shows them the cutting down the tree, milling it into usable pieces, drying it, and finally using it in a project.
Currently, the students are working with red oak from a tree that was falling toward a neighbor's house that Mainwaring cut down and milled. Mainwaring told his students that the oak wood is from only 3 miles away. From this oak, students from all three grade levels will create signs, tic-tac-toe boards, peg board games, keepsake boxes, and other projects. Mainwaring enjoys sharing this locally sourced wood and watching his student create their projects from it. "For me, it's the best job in the world." he said.