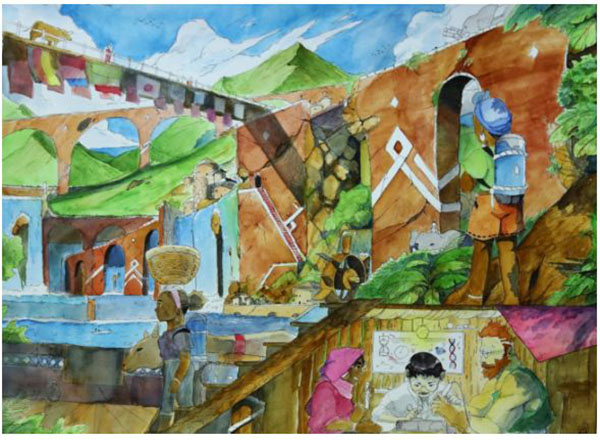 Estella Amoussou, a senior at Charles J. Colgan Sr. High School, was the grand prize winner of this year's Prince William County Service Authority's (PWCSA) Water Art Invitational. Interpreting the theme, "Water Connects Us All," Amoussou won with a detailed painting of a mountainous village using water.
This is Amoussou's third time earning a prize in the Water Art Invitational. She was one of several Prince William County Public Schools students recognized, out of 140 entries.
High school students enrolled in public, private, and home schools in Prince William County, Manassas, and Manassas Park were eligible to participate.
Congratulations to all of our winners.
Computer Graphics:
First place: Geona Kim, Forest Park High School
Second place: David Jones, Charles J. Colgan Sr. High School
Third place: Nicholas Austin-Wakefield, Battlefield High School
Mixed Media:
First place: Grace Carroll, Charles J. Colgan Sr. High School
Painting & Drawing:
First place: Jedsiel Hernandez, Forest Park High School
Second place: Leah Stansbury, Charles J. Colgan Sr. High School
Third place: Buffy Chahal, Patriot High School
Photography:
First place: Ehsanallah Hussainy, Charles J. Colgan Sr. High School
Second place: Wyatt Doughty, Woodbridge High School
Third place: Althea Guevara, Forest Park High School
General Manager's Award:
Gabriela Aramayo-Gutierrez, C.D. Hylton High School
Kat Blanco, Charles J. Colgan Sr. High School
Emily Burdsall, Charles J. Colgan Sr. High School
Selah Conners, Charles J. Colgan Sr. High School
Chanise Egbue, Osbourn Park High School
Alaina Gaul, Patriot High School
Althea Guevara, Forest Park High School
Sophaek Hak, Forest Park High School
Madelyn Herer, Charles J. Colgan Sr. High School
Elizabeth Johnson, Patriot High School
David Jones, Charles J. Colgan Sr. High School
Jayla Lamboy, Charles J. Colgan Sr. High School
Ahmad Moqset Moqami, Woodbridge High School
Wendy Padron, C.D. Hylton High School
Bridgette Rudolph, Charles J. Colgan Sr. High School
Marquis Summers, Forest Park High School