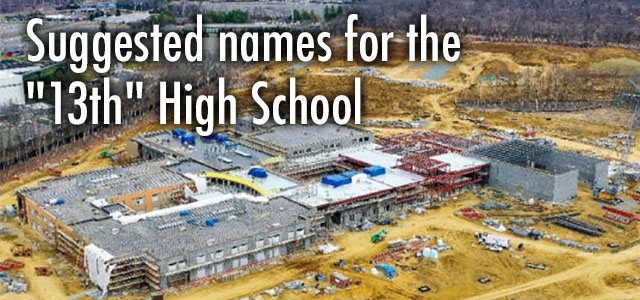 The School Board Naming Committee held a virtual Community Input Session recently to gather naming suggestions from the public for the naming of the "13th" High School.
This new high school, located in Gainesville, will be opening for the 2021-22 school year.
The following is a list of the suggested names received, in alphabetical order, as of noon on May 13, 2020:
13th High School Naming Suggestion
Annie Snyder
Asbury
Ashley Guindon
Blue Ridge
Bristow
Bull Run
Cannon-Scott
Cardinal
Clara Barton
Commonwealth
Dogwood
Gainesville
George Peabody
Glendell Hill
Helen Keller
Horace Mann
James Monroe
Joyce Russell Terrell
Lillian Orlich
Macrae
Manahoac
Middle Grounds
Old Dominion
Paul Ebert
Pavany
The Piedmont
Thomas Brawner Gaines
The Naming Committee is composed of School Board members, Babur B. Lateef, M.D. (Chairman At-Large), Adele E. Jackson (Brentsville District), and Jennifer T. Wall (Gainesville District).
The Naming Committee's recommendations will be presented to the Prince William County School Board at its meeting on Wednesday, May 20, and the School Board will vote on the naming of the "13th" High School on Wednesday, June 10.
Those who wish to submit a written public statement about their suggested name for the "13th" High School may do so before Tuesday, May 19. Please email
planning@pwcs.edu
.
Those wishing to make a verbal statement may call the PWCS Office of Facilities Services at 703-791-7312 by Tuesday, May 19, to leave a voicemail.
There will be opportunities for community members to speak at both School Board meetings before the School Board votes on the naming.