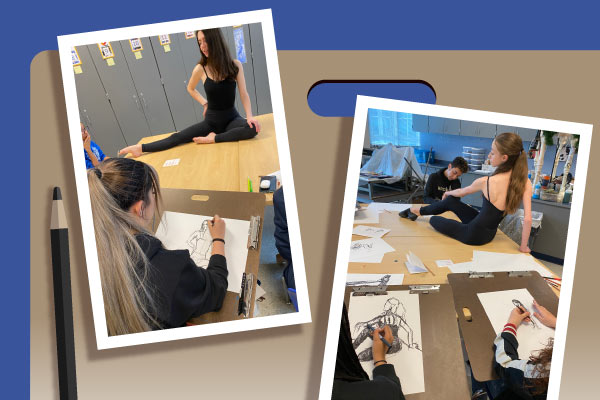 This story features a learning activity that took place prior to school closures due to COVID-19.
Master artist classes are offered by the Center for Fine and Performing Arts (CFPA) program at Charles J. Colgan Sr. High School to provide students with an extended learning opportunity. The figure-drawing class was a collaboration with the CFPA dance program.
Sixteen student dancers held unique poses while 60 student artists sat with large drawing paper or sketchbooks to draw the dancers. The artists practice their contour line and figure drawing, which impresses the dancers. Between poses, the artists show the dancers their renditions.
"As personally observed, the dancers are enamored with seeing themselves drawn by our student artists. They are in awe of their talent. So many students draw differently, with their own style and flair. They show a variety of line and form styles," explained Elizabeth Byrnes, fine arts teacher.
The artists are equally impressed with the dancers' ability to hold unique poses as only practiced dancers could.
Freshman Christiana Singson said, "Any chance I can get to draw real models and practice drawing skills, I'll gladly sign up."
Sophomore Sanai Williams shared, "What I like about CFPA master artist classes is that I get to experience drawing new things and challenging myself to draw a wide variety."
The artists used a variety of mediums in their drawings. Vine charcoal, charcoal pencil, red drawing chalk, and specialized drawing art pencils were supplied, but some students used Sharpie markers, pens, and other writing tools they had brought themselves.
Byrnes added, "It's a beautiful collaborative set of moments to see the creations. Many student artists handed over their drawings to the dancer they drew. This was quite an honor for both sets of students. They felt the collaboration together."
The five Colgan High School art teachers decide the focus of the master artist classes. These after-school classes take place in a smaller setting and allow students to build on skills, have extra time using various materials and experience opportunities that teachers are not always able to conduct during regular school hours. Teachers host engaging activities that students seem to have an interest in. Local sculptors, art college admission specialists, bookmakers, college professors and mural artists are also invited as guests to present and teach students.
The sessions are an hour-long and open to all high school grade levels. Completing three master artist classes is among the CFPA program requirements.