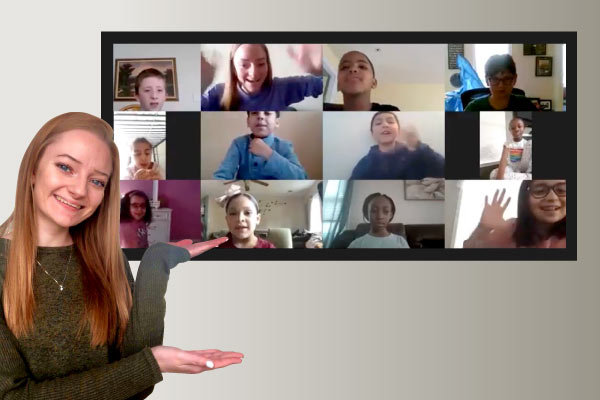 Inspired by the thoughtful acts of her sister, Montclair Elementary School Third-Grade Teacher, Maria Strnisha added daily American Sign Language (ASL) lessons to her classroom curriculum. Thanks to some creative thinking, a phone camera and her dedication to her students, Strnisha created a weekly video series she calls "Sign Language Sundays" to continue teaching ASL during the school closure.
Strnisha's younger sister met a fellow student at school who is deaf. After noticing that many students did not interact with him because of the disability, she took it upon herself to learn some ASL, so she could communicate with him. Strnisha shared this personal story with her students before beginning to teach them ASL.
"They loved to learn a new word each day, so why not continue encouraging that enthusiasm? Now is the perfect chance to take a little bit of time to improve a new skill," Strnisha said.
While earning her Bachelor of Arts degree in dance, Strnisha gained experience in editing videos for performance reviews. The video-editing skills have come in handy as she has adapted the ASL classes to a video format for a virtual learning delivery. Strnisha explained that sign language relies on visual cues, so teaching the lessons through video is very doable. Her enthusiastic students often send emails asking if they have made a sign correctly.
Strnisha shared, "It's definitely the coolest thing ever because it shows me that they're learning, which is really just the ultimate goal of this entire process."
Strnisha hopes that these lessons not only help her students gain a new skill, but also help to build their confidence in being able to communicate in multiple ways.
"I want them to know that just because someone might communicate in a different way that doesn't make them different," she added.