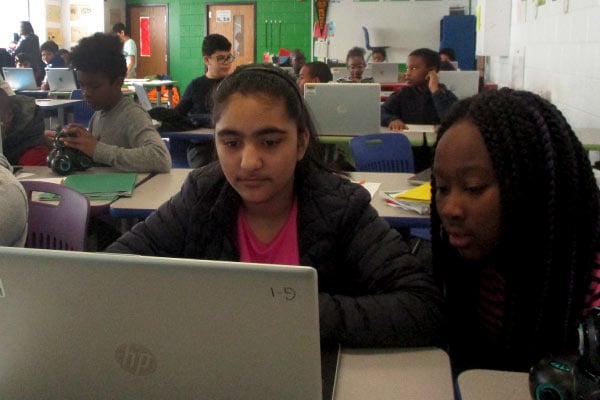 This story features a learning activity that took place prior to school closures due to COVID-19.
Robots are dancing at Rippon Middle School! Students in the science, technology, engineering, and mathematics (STEM) class, Knowing Math, learn coding by programming Cue robots to dance. The class is taught by Sharon Bicey, an encore teacher, along with coding help from Tameka Martin, instructional technology coach.
Students complete a series of modules to learn how to apply different coding commands. Then they apply that knowledge to program their robot to dance. While it may seem like a simple task, programming a robot to dance to the beat of a song takes dozens of lines of code. Students must constantly test their code to see if the robot is moving the way they intended. Many of the students have never coded before, and they get very excited to see their code come alive through the robot.
While conquering the challenges of this project, students also learn how to work together in collaborative teams to accomplish a task. At the end of the unit, the class has a dance party to show off their groups' coding abilities.
Students found the coding project to be "hard work, but fun."
"The smiles, high-fives, and positive comments as the students share their final products let me know that this project was a success," said Bicey.
Learning and applying practical skills with fun visual results provides students with tools for life. This is Positively PWCS.