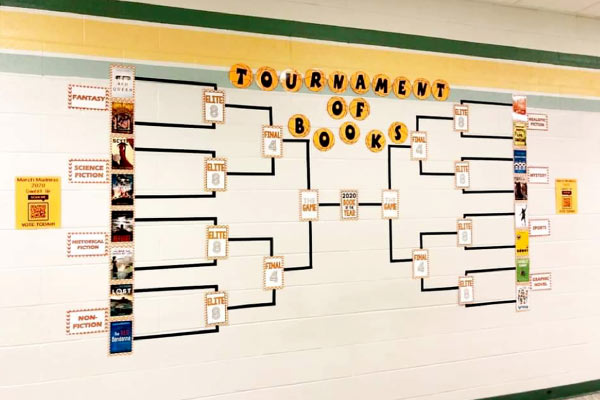 This story features a learning activity that took place prior to school closures due to COVID-19.

Bull Run Middle School held a March Madness tournament, but the competition did not play out on a basketball court, instead it had students reading books and voting for their favorites. When the tournament was interrupted with the recent school closure, the competition was kept alive by School Librarian Krisi Beall.

Each year, Beall gathers a list of the most checked out books in the school. The top two books from eight different genres create the "Sweet 16 March Madness in the Library" tournament.

"Before the titles are chosen, students are observed predicting which titles will make the Sweet 16," shared Beall. "To promote a book title, students encourage friends and classmates to check out specific books to increase circulation," Beall added.

Each week, students pick their favorite books by visiting a voting station and scanning a QR code on a posted form. Voting stations are set-up outside the library, in the hallways, in classrooms and in the cafeteria. Votes are also collected using a Google form that is posted on the school library's webpage.

"Once voting starts, students begin campaigning for particular books. For example, we have a group of seventh-grade girls in an intense fantasy versus science fiction battle, which has been going on for months," Beall shared.

Seventh-grader Gwyneth Moreno stood strong behind her fantasy favorite, "Red Queen" by Victoria Aveyard, while classmate Kathy Guo's pick to win was Neal Shusterman's "Scythe," a science fiction novel. Both students frequently stopped by the library during lunch to see which title was winning.
Schools closed just when it was time for the Final Four battle to begin. Not wanting to let the students down, Beall made sure the tournament continued by encouraging students to vote using the Google form on the library's webpage. Books from the science fiction, historical fiction, mystery, and sports genres rounded out the Final Four. The Championship Round had "Scythe" by Neal Shusterman from the science fiction genre facing-off against Jason Reynolds' "Ghost," a sports novel. The winner was "Scythe" by Neal Shusterman.

"We started this schoolwide reading program five years ago in order to highlight the school library and promote reading. What we find most important, is this program is based completely on student voice," Beall said.