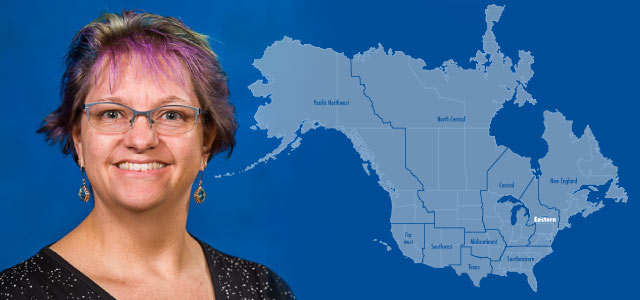 The National Association of Geoscience Teachers (NAGT) has recognized Charles J. Colgan Sr. High School earth science teacher, Bonnie Keller, as the Outstanding Earth Science Teacher Award (OEST) winner for the eastern section. The eastern section includes New York, Pennsylvania, New Jersey, Maryland, Delaware, District of Columbia, Virginia, West Virginia, and eastern Ontario.
The OEST award is given to teachers who have made "exceptional contributions to the stimulation of interest in the earth sciences at the pre-college level," according to the NAGT website.
Keller said that she was encouraged by colleagues to enter and was not expecting the accolades that followed. "I got an email that I had been selected not for the state award, but for the section award." she said, adding, "I am so surprised and honored that my submission was received so well!"
She credits her teaching effectiveness to the skills she learned from previous work with children. "I'm a clown. Literally," she said. "In college I did children's parties as a clown and magician."
Keller shared that she uses humor in the classroom to engage her earth science students. "I know that every student can learn in the right setting, with the right support, so I try to find that sweet spot."
Keller further credits her teaching effectiveness to being a member of multiple professional science organizations. "Finding a way to connect with other teachers who teach the same level and subject is so vital, and yet so easy with today's technology," she shared, also stating, "Sometimes teachers feel isolated, but they shouldn't be - there are others out there who can support you, and whom you can support."
As for what she hopes students take away from her class, Keller said that she wants students to realize that all the systems on Earth are connected. "I'd really love to change the name of the course to Earth Systems Science," she said. "Learning how each system interacts with the other can give a more holistic view of our planet," she added.