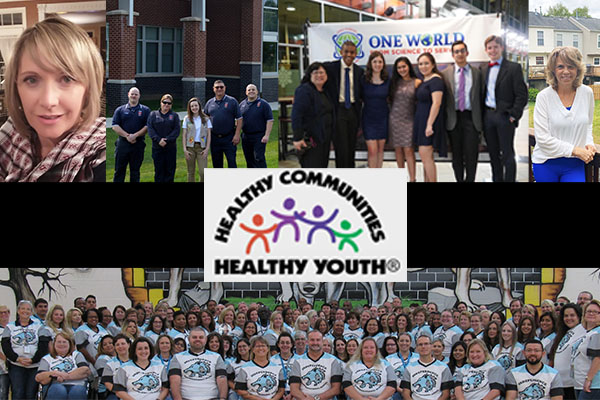 Although the annual ceremony was canceled, the Prince William County Healthy Communities ∙ Healthy Youth® Council (HCHY) still celebrated those chosen as Local Hero Award winners with well-deserved recognition for the many ways their work has made a difference to the Prince William County community. The winners of the HCHY Local Hero Awards were selected for inspiring and enduring contributions to youth through school and community activities. Recipients come from many sectors of the community, including county and state government, businesses, non-profits, individuals, and organizations, as well as those who are part of Prince William County Public Schools (PWCS).
Congratulations to the following PWCS recipients of the 2019-20 Local Hero Awards:
One World organization
is a nonprofit organization led by a coalition of determined individuals with the common goals of uniting and empowering youth using science, technology, engineering, arts, and math (STEAM). One World officers Shan Lateef, Paul David Quimby, Sofia Quint, Leena Sherdil, Mason Simms, and Delaney Walts, are juniors in high school. Through communicating their passion for STEAM, One World brings opportunities to youth of various backgrounds by exposing applications of STEAM and educating youth on numerous careers in STEAM fields. One World partners with community leaders, sponsors, and supporters to grow STEAM awareness through the implementation of activities that include local camps, seminars, workshops, and STEAM conferences. Paul Quimby, Sofia Quint, Leena Sherdil, Mason Simms, and Delaney Walts, attend Charles J. Colgan Sr. High School, and Shan Lateef goes to Thomas Jefferson High School for Science and Technology.
Theresa Mahmood
, school social worker from Independence Nontraditional School, works with students in groups and on an individual basis providing social skills and academic guidance to bridge gaps and help students overcome obstacles. She collaborates with families, colleagues, and community resources to provide outstanding support for increased achievement. Mahmood developed and implemented the Wolf Den Pantry at Independence Nontraditional. She ensures that the Wolf Den Pantry is filled with food and toiletries for students and families. She obtains food and gifts for families during the holidays through her plethora of community partnerships. Mahmood demonstrates acceptance of differences, embraces student diversity, and makes valuable contributions to Independence and the community.
Natalie Korzuch
is a 14-year old student at Charles J. Colgan Sr. High School who approached the staff at Fire and Rescue Station 26 in Woodbridge with a proposal to install pollinator gardens there to complete her Girl Scout Silver Award. The Fire Department was excited about the opportunity to create attractive gardens at the station, where they live and work. Throughout the project, Korzuch's passion and dedication inspired others as she shared great knowledge about the plight of the pollinators and the need to establish gardens containing the appropriate type of plants. Korzuch explained that because many of the pollinator plants were also native plants, maintenance for the gardens would be very low once established, making it ideal for the fire station staff. Korzuch obtained and installed a beautiful garden with 22 varieties of pollinators and a total of 165 plants.
Independence Nontraditional School
- Thanks to the creative and engaging educational opportunities of Principal Robert Eichorn and his staff, students at Independence Nontraditional School are encouraged and motivated to love learning and to communicate their needs, hopes, and dreams. Teachers, counselors, social workers, nurses, administrators, and support staff are available and provide caring, coaching, and support at all times. With the knowledge that they often only have one opportunity with some students to get it right, the staff are aware that everything they do at Independence Nontraditional must be relevant and impactful. With the belief "we are better together," they strive to build a community that is a safe place for students, with integrity, ingenuity, and intellect as the building blocks of the healthy communities they seek for their futures.
Joni Griffin
, teacher of students with intellectual disabilities at Freedom High School, is a leader in sustainability advocacy at the school and has inspired other staff to join her. She attended the annual Sustainability Summit and Expo, sponsored by the PWCS Energy Management and Sustainability Team (EMAST). Griffin and other staff sponsor the Special Forces Green Team at Freedom High. The Special Forces Team is comprised of 20 students with disabilities ranging from severely disabled to autistic. The green team collects all recyclables throughout the school and disposes of them in the outside recycling receptacle. In addition, they lead alternative recycling programs for plastic bags and ink cartridges. Griffin, a strong sustainability advocate and a great teacher, exemplifies the unique qualities of a passionate teacher. It is evident that teaching and leading sustainability efforts are more than just a job for her; it is obvious she is an extraordinary teaching "superhero!"
Local Heroes Award recipients exemplify how to support and build leadership skills and self-awareness in our youth and serve their communities as role models for those who come after. The HCHY Council is comprised of representatives of Prince William County Public Schools, the Prince William County Government, and more than a dozen representatives from the nonprofit, volunteer, business, legal, education, and faith sectors. The mission of HCHY is to educate, communicate, empower, and serve the community to support youth in building character, responsibility, resilience, empathy, leadership, and other developmental assets.