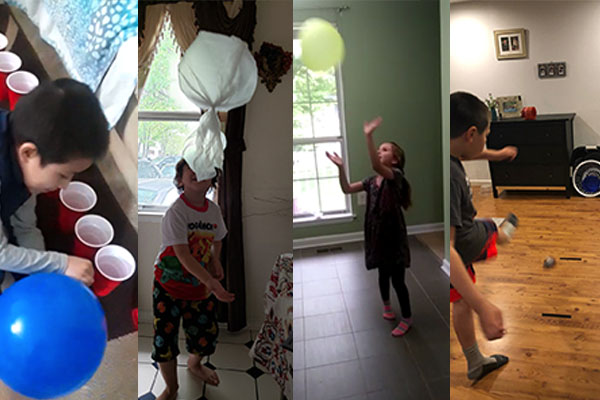 Flip your lid, backboard bank-it, and fan-a-war do not sound like typical field day events, but these were some of the activities that McAuliffe Elementary School students enjoyed during their virtual field day.
Field day events are a spring tradition at elementary schools. McAuliffe Elementary Physical Education (PE) Teacher Jeanne Schlevensky was determined to not let school being closed prevent this tradition from happening. Schlevensky saw Online Physical Education Network's (OPEN) National Field Day Event as a way to host a field day for her students.
Prior to the day of the event, Schlevensky sent a letter to parents explaining how McAuliffe students could participate. She posted videos of the various activities on her webpage for students to review and practice. Students and their families were encouraged to watch updates online of the OPEN's virtual National Torch Run across the country during the week leading up to the event and an opening ceremony the evening before National Field Day. Michelle Angry, a special education teacher's assistant and wellness committee member, produced and sent a video to parents providing more details.
All equipment used in the activities were common household items such as a laundry basket, spatula, plastic cups, and paper plates. Students and their families chose at least four events to participate in, tracked their scores, and were encouraged to post videos and photos on social media. Many teachers hosted virtual meetings to share in the experience with their students and provide a way for students to watch each other complete the activities. Schlevensky joined in several of these to watch students enjoying field day. At the end of the event, students emailed their scorecard to Schlevensky and received a National Field Day certificate.
"Field day is such an important tradition to students and staff. Even though we could not be at school, I wanted to be able to provide the students with a field day experience. OPEN presented PE teachers nationwide with the opportunity to do this," Schlevensky said.
Third-grader Jordan Armstrong shared, "I enjoyed all of the activities we did, but the spoon relay was my favorite."
First-grader Ariyah Hodnett also liked the spoon relay activity, "At first I thought it was boring, but when I tried it, it was fun for me and my brother."
Third-grader Jayden Armstrong said, "It was fun. My favorite activity was the penguin race."
Fourth-grader Ian Hodnett liked the backboard bank-it activity, "I liked lobbing socks into a basket, because it was like playing basketball."
Coordinating this event serves as another example of how teachers across the Division are finding creative ways to continue providing educational opportunities for students and staying connected as a community.