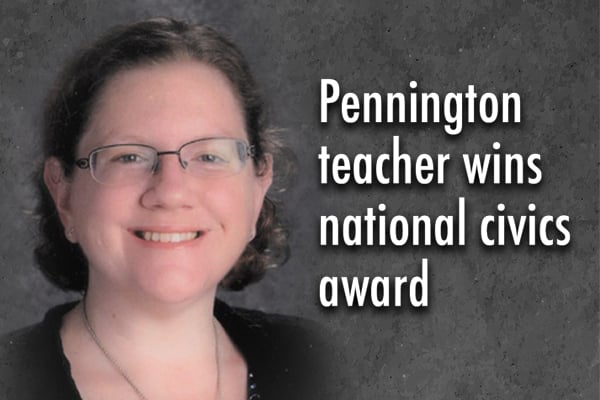 Pennington Traditional School Social Studies Teacher Erin Merrill is the recipient of the 2020 American Civic Education Teacher Awards (ACETA). This national award recognizes civic teachers for their exemplary work preparing young people to become informed and engaged citizens. Merrill is one of three educators in the nation being recognized for this award.
Charles Quigley, executive director of the Center for Civic Education, praised the three distinguished educators, including Merrill, for their dedication in helping young people learn the information and skills needed to participate as effective and responsible citizens.
"We are grateful for all these teachers do to ensure that each succeeding generation understands the principles and values of our democracy," Quigley said.
Merrill shared her passion for explaining democracy and the inner workings of government at the federal, state, and local level to her students, "As a civics teacher, I am preparing the next group of citizens who will not only support our country as adults, but will lead it. To reach this goal, it is important that students learn our history, our Constitution, and the workings of our government. And not just a memorization of facts; students need to understand why. In my classroom, my biggest priority is to go above and beyond the curriculum with as many experiences as possible."
One of Merrill's colleagues highlighted the following in their recommendation, "Watching students wrestle with traditional voting, caucus-style voting, and ranked choice is a sight to behold. Seeing them participate in the various styles of democracy showed me that Merrill is preparing them to be active participants in American politics. Teaching them civics is one thing, but preparing them to be active, civically minded citizens is a rare thing."
Merrill has worked diligently to help young people make the connection that being an active and engaged citizen on the local, state and federal level has a significant impact on their personal lives.
To be considered for the award, the candidate must be a full-time classroom teacher in grades K-eight. Applicants must submit a two-page self-portrait essay, their resume and two letters of recommendation. To win the award, teachers of civics, government or related subject areas must have demonstrated exceptional expertise, enthusiasm, and creativity to help students to learn about the Constitution, the U.S. government at the federal, state, and local levels, and public policy.
The ACETA awards are sponsored by the Center for Civic Education, the Center on Representative Government at Indiana University, and the National Education Association.
The Center for Civic Education is a nonprofit, nonpartisan educational organization dedicated to fostering the development of informed, responsible participation in civic life by citizens committed to values and principles fundamental to American constitutional democracy. Find more details on the award on the
Center for Civic Education website
.