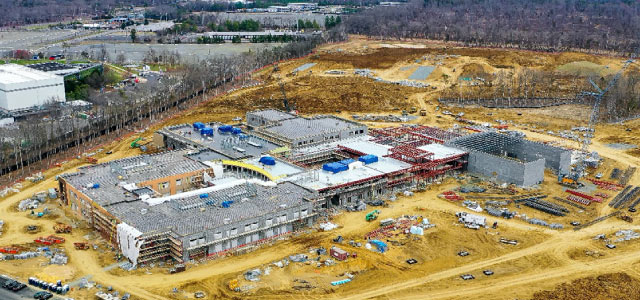 The Prince William County School Board unanimously approved a recommendation to name the "13th High School" Gainesville High School. The new school will open in August 2021 and is located at 13150 University Boulevard, within the Gainesville Magisterial District.

School Board Chairman Dr. Babur Lateef shared that naming the school Gainesville recognizes a historic and growing area of Prince William County. "When they no doubt go on to win statewide awards, people will know that is Gainesville, that is Prince William County."
The School Board also unanimously approved naming Gainesville High's library/media center after Ashley Marie Guindon, the Prince William County police officer who was killed in the line of duty on her first day on the job in February 2016.
"Her name will live on, and students will know who she was and will be able to know of the service she gave as an officer and as a student," stated Loree Williams, School Board Vice Chairwoman.
In addition, the School Board unanimously approved naming Gainesville High School's student services center after Lillian Orlich, esteemed school counselor and one of Prince William County Public Schools' longest-serving employees. Orlich retired from PWCS in 2017, after serving for 67 years as teacher then school counselor, at Osbourn High School in Manassas and then moving to Osbourn Park High School when the school opened in 1975.
"I am excited that the student services center at the new Gainesville High School will be named after a remarkable educator and counselor, Ms. Orlich. Over the past few weeks I heard from countless former students and employees and was touched by her commitment to her school community. She is the kind of educator who will change lives for generations to come. Her kindness, love for her students, and commitment to service are characteristics we should all aspire to have," shared Gainesville School Board Representative Adele Jackson.
Neil Beech, the new principal of Gainesville High School, who also served as principal of Osbourn Park High shared, "Now that we know the name of our new school, it's even more exciting to begin planning and preparing for the 2021-22 school year, including the use of community input to choose our school mascot."
"I'm thrilled that students will have an opportunity to learn about Officer Guindon and Ms. Orlich. Both served our community selflessly, and their names will deservedly be a source of inspiration to the Gainesville High School community for generations to come. Having worked with Ms. Orlich at Osbourn Park High School for many years, I had the opportunity to witness the positive impact she has had on so many students and family members over time," Beech added.
Gainesville High School will be a School of Global Citizenship, organized around the concept of "instructional houses," each having its own concentration and thematic pathways that meet students' unique interests and needs as learners.