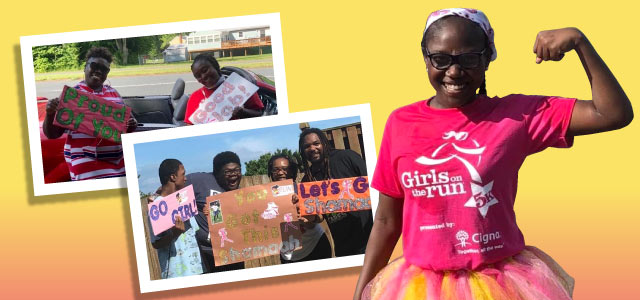 King Elementary School's inaugural Girls on the Run (GOTR) team had their season cut short when schools were closed, but this didn't stop fifth-grader Shamaah Green from continuing to train. After seeing her dedication, Green's family created a 5K run just for her.
Green was inspired to join King Elementary's GOTR team because of her interest in running track and desire to meet other girls who like running. Green's mom, Stacy, helped her daughter train by walking daily. The young runner was also coached by her aunt, who is a personal trainer. Prior to this special 5K run, Green completed three 5K bubble run events with her aunt.
"I didn't want to give up on something I started. I wanted to continue to make healthy choices, and I loved the different lessons GOTR had us continue with," Green said.
GOTR programs in schools end the year by having the teams participate in a celebratory, non-competitive 5K event. With local running events canceled, Green's family coordinated a 5K run along Dale Boulevard in Woodbridge to celebrate her hard work.
"I love the fact that she wanted to continue her training and with this being her first year with GOTR, we didn't want to just end it with doing nothing exciting. We were not going to let this pandemic stop the fun," said mom, Stacy. "We always tell her to finish something you started. We were very proud to see her push herself despite all that was going on," she added.
On the big day, several supporters, including members from her immediate family, neighbors, church family, Prince William County Department of Fire and Rescue personnel at Station 18, and even Principal Amy Larson staged along the route to cheer-on Green.
"When I learned that Shamaah had continued running and training for a 5K after a jump-start to running with the GOTR team with Coach Sarah Stamper, I was immensely proud of her. It takes determination to stay on track with this goal without the set schedule that the GOTR program offers with friends at school," Larson said.
Several elementary schools across the School Division host GOTR teams. The program is open to girls in grades third through fifth. The GOTR nonprofit organization was created to help girls build confidence. The program is not just about running and learning to eat healthy, it encourages girls to recognize their individual strengths, connect with others while learning about teamwork and how to have a positive impact on the world.