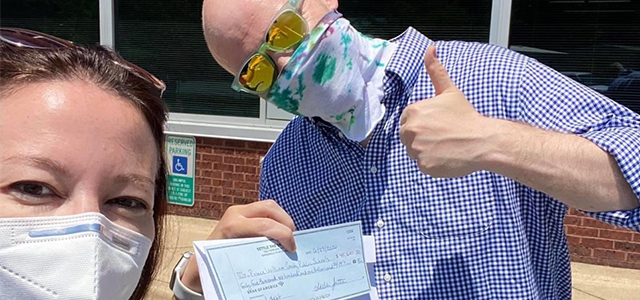 Settle the Debt, a partner of SPARK, the education foundation for PWCS, recently donated $45,600 to pay off the student meal debts at 24 schools in the division, bringing the total amount donated to nearly $150,000.
Adelle Settle, founder of Settle the Debt and Prince William County resident, said she first learned of the existence of student meal debt in 2017, inspiring her to make a positive difference.
"I have worked since then to advocate for more equitable and kind nutrition policies, both at the local and state level," she said. "Our nonprofit, Settle the Debt, became a 501c3 last fall in order to advance our mission to end lunch debt in Virginia public schools. To date, we have paid off nearly $150,000 in Prince William County school meal debt."
"I am reminded often how special our Prince William community is," Adam Russo, director of school food and nutrition services for PWCS, said about the donation. "Today I am blown away by the kindness of our neighbors, especially in these uncertain economic times. For Settle the Debt to raise nearly $150,000, it is an amazing contribution to our families, and I am truly thankful."
"I am so proud of Prince William County Public Schools for leading the way in ending alternative meals and setting fair nutrition policies that ensure that no child goes hungry in our schools, regardless of their financial circumstances," Settle added. "I am passionate about ending childhood hunger, and I am grateful to have such a strong partner in PWCS as we work together to help shape better nutrition policies across the commonwealth."
Settle said the organization donated more than $50,000 last December and January to ensure students returning from the winter break started the calendar year without any meal debt.
If you are interested in donating to help settle meal debt, check out the
Settle the Debt website
.