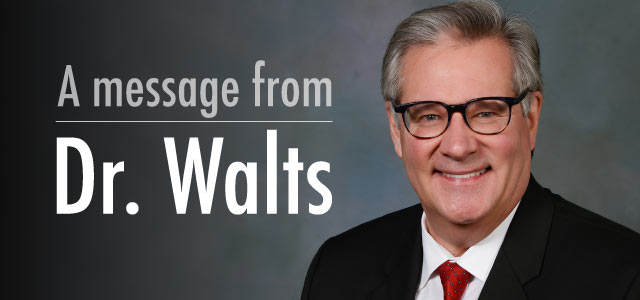 August 31, 2020
Dear Prince William County Public Schools Family:
It is hard to believe that in about one week school begins for the 2020-21 school year. I recognize how difficult this pandemic has been on our students and their families, our staff members, and our community as a whole. Some of us have lost loved ones or friends to COVID-19, and others have experienced the symptoms to varying degrees. Our patience has been tested over and over again as we have limited our travel and stayed inside our homes. I have also heard many inspiring stories from our community of people supporting one another. We must continue to work collaboratively to support one another and lift each other up.
The School Division has remained busy since the closure on March 13, serving more than one million meals to students in need. Additionally, we educated 5,800 students virtually through our summer school program. In an effort to prevent the spread of the virus, our facilities and custodial staff have been working diligently to thoroughly clean our buildings and ensure our heating/ventilation and air conditioning units are appropriately circulating air. Our health staff has worked closely with the Prince William Health District to develop a plan prioritizing the physical and social-emotional needs of our students and staff, ensuring safety and belonging as a foundation for learning. PPE is being delivered to all schools for nurses, special education staff, and other employees, and mobile hand sanitizer stations are being installed at all schools along with clear plastic barriers in areas where the public interacts with employees.
Here are 10 key things you need to know for the start of school:
September 8 is the first day of school for all students.
Most students are virtual only, unless your student's school has specifically talked to you about your student attending in-person.
Students attending in-person have been determined based on instructional need. Our teachers of students with special needs have been scheduling Individualized Education Program meetings with parents/guardians and working diligently to meet the needs of their students. I sincerely appreciate the efforts of all of our staff members.
Canvas will be the primary platform for delivery of online instruction. Details about Canvas for parents, including instructional videos, are available on the PWCS website (instructions are available in multiple languages). Our teachers and other instructional staff have been developing lessons through Canvas, which is a common learning management system. They have been engaged in multiple training opportunities to deliver the best possible instruction to our students.
Zoom will be the primary platform for live instruction. Details on using Zoom are available on the PWCS website.
To help prepare our students for virtual learning, PWCS will be distributing more than 44,000 technology devices to families. Due to national supply-chain challenges, some families at the elementary school level may be asked to share a device among multiple students. As soon as we receive additional devices already on order, we will provide these families one for each student. Canvas and Zoom apps can be used on a smart phone or tablet, if preferred, or if a laptop is not available.
The Division is also sponsoring the cost of Comcast Cares for qualifying families in need of internet service; qualifying families are being contacted. For those in areas of the county without the ability to connect to broadband (such as rural areas) but who have cellular access, schools have limited numbers of take-home hotpots available. Wi-Fi has been made available in 36 parking lot locations across the county (go to list).
Student schedules should be available in ParentVUE on or before September 4.
We encourage you to test your technology before the first day of school to help work out any issues; answers to common technology support questions are available at the Helpdesk webpage.
Be sure to look for communication from your student(s)' school(s) for further details on the school year including schedules and bell times. Be sure to check for "The Scoop!" email each week and visit the PWCS website for the most up-to-date information on our return to learn frequently asked questions.
I appreciate your patience and support as we work through this difficult time. I am confident, working collaboratively, we can make the 2020-21 school year a fantastic year.
Sincerely,
Steve Walts
Superintendent of Schools