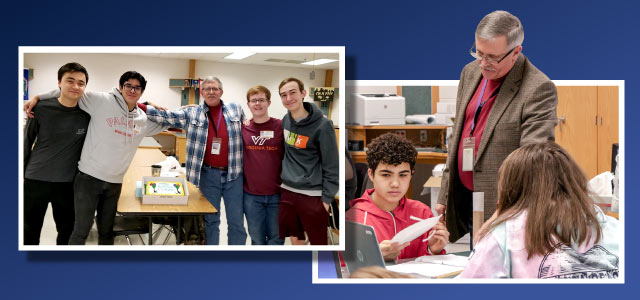 A veteran educator of 21 years, Battlefield High School Teacher George Bishop has always sought to bring quality technology and engineering educational opportunities to his students. This past June, Bishop learned he was selected for one of the highest honors given to technology and engineering education classroom teachers - being named the 2020 Virginia Technology and Engineering Education Association's (VTEEA) High School Teacher of the Year.
"It was a total shock and surprise to be honest. With all the excellent technology and engineering educators in the Commonwealth, to be named as the best among them is extremely humbling," Bishop said of learning he was being recognized as Teacher of the Year.
Bishop was instrumental in bringing Project Lead the Way (PLTW), a premier engineering program for high school students, to Battlefield High in 2015. Thanks to the work of Bishop, and fellow teachers Michael Spudic and Nasir Ayoub (now at Charles J. Colgan Sr. High School) along with PWCS Supervisor of Career and Technical Education Doug Wright, the program grew from one offering, Introduction to Engineering Design, to four PLTW courses for students in just a few short years. When his students expressed their desire for an additional engineering course, Bishop made it happen, even amid a pandemic.
"I took the Engineering Design and Development course (for instructors) which was totally online due to COVID-19," shared Bishop. "Now this school year, our students at Battlefield have the opportunity to participate in five PLTW Engineering courses."
Bishop's efforts to grow engineering and design opportunities helped earn Battlefield recognition as a PLTW Distinguished School for the 2019-20 school year.
In addition to his busy teacher schedule, Bishop also serves as the school's National Honor Society advisor and founded and sponsors the Battlefield Technology Student Association (TSA), a Career and Technical Student Organization. TSA is a professional association, not a club. After graduating high school, students can join the Technology Engineering Education Collegiate Association as well as the Virginia Technology and Engineering Education Association.
Bishop goes above and beyond for his students, current and former, helping them obtain internships and jobs, and assisting with scholarships and college applications. He even earned his commercial driver's license so he could drive a school bus and ensure his students could attend field trips that expose them to practical application of technology education. Students and colleagues listed example after example of Bishop's dedication to preparing students for life beyond high school in nominating him for the 2019-20 Prince William Teacher of the Year.
"I am proud of the way former and current students take time to check in to keep me up to date on what is happening in their lives just as I take the time to check in with my former school teachers," shared Bishop. "Remaining relevant in their lives, being a positive influence, celebrating their successes, and assisting them to learn from their disappointments keeps me going."
Bishop accepted his Technology Teacher of the Year award virtually as part of the VTEEA Summer Conference business meeting in July.
In addition to receiving Virginia's top High School Technology Education Teacher Award, Bishop will receive the International Technology and Engineering Educators Association (ITEEA) "Teacher Excellence Award" during the ITEEA's 83rd Annual Conference in Denver in March of next year.