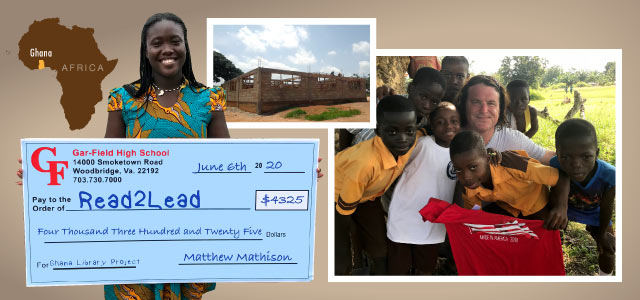 The focus of Samantha Boateng's International Baccalaureate (IB) Studies service project was to help students in her mother's native country, Ghana. As a 16-year-old junior, she began a successful campaign to collect and donate books. Her service project transformed into a nonprofit organization that not only provides books, but also funding to build libraries.
Boateng, a 2014 graduate of Gar-Field High, founded the Read2Lead Nonprofit Organization. Brian Bassett, the administrative coordinator of the IB Program at Gar-Field, serves as the chairman. Each school year, his current students are actively involved.
"Read2Lead's goal is to help develop the next generation of leaders (in Ghana) through literacy programs and increasing access to books. At Gar-Field, we raise funds to help support this project," Bassett shared. "We collect and ship books, library and school furniture, and educational resources to support the schools where Read2Lead libraries reside," he added.
"I never thought that this project would become a long-term project, let alone a nonprofit organization. I just wanted to do something meaningful and I'm amazed by how it has grown in such a short time," Boateng shared.
One of the reasons Read2Lead has been so successful is the emphasis on encouraging communities to be involved in the projects. Community members were included in discussing the plans for the libraries before the start of construction and during the construction.
"World leaders have conducted similar projects in Ghana but were not actively involved in the communities. We emphasize community participation, so people really value that," Boateng explained. "I felt most honored when one community dubbed me 'princess of progress' because of Read2Lead's work," she added.
Current Read2Lead libraries in Ghana include Gbawie Cluster of Schools in Accra, Ahafo Ano South Basic School in the Ashanti Region, and Kotwi R/C Primary and JHS in Kumasi, currently under construction.
Gar-Field Librarians Katie Wilkinson and Melissa Campbell have assisted in Read2Lead's efforts by coordinating students to help by cataloging, inventorying, and sorting donations. Campbell saw the nonprofit's impact firsthand during a trip to Ghana in 2018. IB Middle Years Programme (MYP) Coordinator and Gifted Education Teacher Della Gordon is another key faculty volunteer who has been working "behind-the-scenes" since the establishment of the nonprofit. Gordon also traveled to Ghana in 2018.
Gar-Field continues to raise money for the construction of the third library, but currently, is only taking donations of more recent encyclopedia sets and adult job training resources. They are also working with Gar-Field art students to decorate the newest library and refresh the others.
Visit Read2Lead's
website
and
Facebook page
for updates on their on-going work in Ghana. Monetary donations can be made through the nonprofit's website.