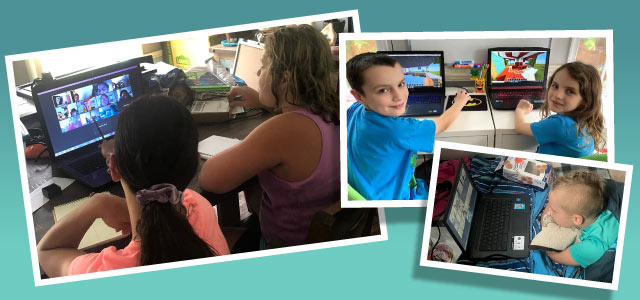 King Elementary School offered students a virtual summer camp to interact and continue structured learning. For five weeks, students in grades first through fifth participated in a variety of summer-themed science, technology, engineering and mathematics (STEM) hands-on investigative lessons.
This past spring, King Elementary Third Grade Teacher Jennifer Dittamo missed hosting after-school clubs and being able to interact with students in that setting. This inspired her to host a virtual summer camp.
Each week the lessons were based on a theme, that included the wonders of water, travel, camping, amusement parks and fairy tales. Students received a 30-minute live lesson once a week and independent work, which was tailored for each grade level. Dittamo also posted read-alouds online that focused on reading comprehension and word study assignments.
"All of the investigations used materials that most people have at home. We reviewed buoyancy, created a constellation, explored centrifugal force and reviewed simple machines with wheels and axles and catapults/levers," Dittamo shared.
Declan McCray, a rising fourth-grader, said, "There are a lot of fun things to do in the virtual camp, but my favorite activity was the Minecraft challenge where my sister Lorelei (a rising second-grader) and I built an amusement park in the game."
The virtual camp also helped students prepare for the coming school year, by having a chance to use both Zoom and Canvas to receive instruction. Zoom was used for the live lessons and Canvas was used to deliver the independent work.