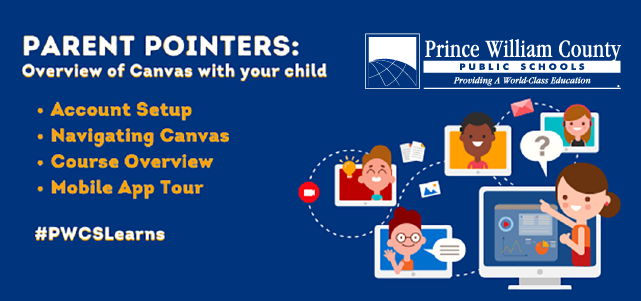 PWCS is offering three upcoming virtual Canvas information sessions prior to the first day of school on September 8. Parents will receive an overview of Canvas; the new learning management system students and teachers will be using this fall. Parents will gain an understanding of Canvas and learn how to connect their parent accounts to their students' accounts. There will be an opportunity to ask questions during each live session via the chat feature.
Parents are encouraged to have the login information to your child's Office365/Canvas account, so you can create your parent observer account.
Scheduled sessions for "Parent Pointers: An Overview of Canvas:"
Thursday, August 27, at 7 p.m.
Tuesday, September 1, at 7 p.m.
Thursday, September 3, at 7 p.m.
View a live recording of a previous webinar of Parent Pointers: An Overview of Canvas for the PWCS Parent.