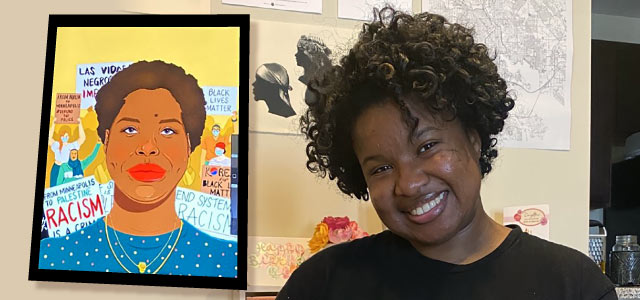 Unity Reed High School Art Teacher Taylor McManus drew a portrait of Patrisse Cullors that was selected to accompany an article in "Newsweek" magazine on Cullors, activist and co-founder of the Black Lives Matter movement. It is a great achievement to provide an illustration for "Newsweek," a well-known news magazine that has been in existence for over 80 years.
McManus was approached by a former art professor, who had seen her talented artwork on Instagram and connected her with the art director for "Newsweek" to collaborate on an illustration for the article. When asked what inspired her to portray protestors of all cultural backgrounds holding signs in different languages, with Cullors in the forefront, McManus explained, "The Black Lives Matter movement is no longer just in America. This movement is global. This was important to try to capture in the illustration. I researched images of people all over the world protesting as reference for my illustration. Cullors is one of the founders of the Black Lives Matter movement, so naturally she is in front of protestors leading this global protest. In addition, with the recent deaths of George Floyd, Breonna Taylor, Ahmaud Arbery, and so many countless others I was inspired and elated to use my art to bring more attention to this global movement and the people leading it."
McManus shared about her beginnings in art and said her mother said her love for art began at the age of 3 when she started to draw. McManus claims to never go anywhere without a sketchbook and pencil to this day. She describes art had always been a constant in her life, but she had not given serious consideration to a career in art until her junior year in high school.
McManus currently teaches Art I students at Unity Reed High and will also teach Art II in the upcoming school year. McManus has advice for students who may be interested in taking art and extends an open invitation to, "Come and join us! Art is so much fun, especially once you have found the type of art you are interested in making."
McManus added, "I encourage all students to try art at least once to see how it can serve them at this point in their lives. I also encourage students to find art that they like and use that as inspiration. Find art, and artists that inspire you to create. Art has changed my life in the best way, and I hope that students taking the course can have their own transformative experience."
Learn more about the different Art courses offered in PWCS.