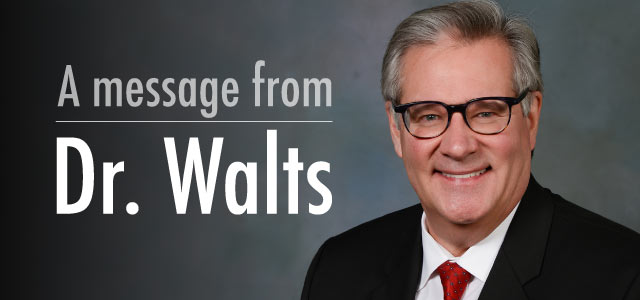 I want to begin this evening by saying - Thank You!
Last week we launched what was perhaps the most highly anticipated and complicated school opening in our division's history - and it was done successfully.
I am so immensely proud of every one of our employees, students, and parents and guardians.
While there have been critiques of public education - let me just say that in the middle of the greatest global pandemic in a Century - while others argue, pontificate, or vacillate - PWCS got it done.
Everything we have asked of our employees in the last six months has been accomplished, and more.
Here are just a few examples:
We asked our employees to launch new platforms including Canvas, Zoom, and Virginia IEP, along with a unique 50/50 scheduling in the Hub, and all new paperless and online return-to-learn forms - and they did successfully.
The successful launch of these new platforms is the direct result of the hard work of our central office support staff along with the work of every school including our administrators, school-based support staff, and teachers.
We asked our employees to provide devices to support students' remote learning.
And before the first back to school day, our schools handed out more than 44,000 devices to support remote learning, including the delivery of 18,210 new laptops in just the past two weeks.
We asked our employees to continue to hire and process applications.
This summer they hired more than 700 new employees, including nearly 600 instructional staff.
We asked our employees to prepare to deliver remote instruction, using PWCS lessons and curriculum.
To support this learning 15,515 courses were created in Canvas by our Student Learning staff and teachers before the first day.
We asked our teachers, many for the first time in their careers, to deliver instruction completely remotely. And we asked our students and families to receive this instruction remotely.
The first week we had nearly 34 million page-views in Canvas by students.
Almost nine million assignments, discussions, media uploads and files were loaded into Canvas the first week.
Divisionwide, nearly 70,000 Zoom meetings were held.
Let's a take look at a brief video montage of some of what the first week looked like - run video.
The first few days had the expected challenges as everyone adapted to the use of these new platforms, but thanks to the incredible help desk, school front desks, and our great Instructional Technology Coaches - they helped thousands of people via calls and help tickets last week.
The technology itself was executed with great success, the issues were primarily around password and log-in challenges, and as the days have progressed, these numbers have continued to steadily decrease.
We asked our employees to move all our typical first-week-of-school paper-based forms to be provided online, and we asked our families to complete their forms online.
We've already collected nearly 19,000 online return-to-learn forms.
We asked our employees to complete nearly 12,000 IEPs before the first day. And they did.
We asked our employees to provide PPE to everyone who needs it, and our amazing Office of Finance and Risk Management, with support from our Student Services and Special Education offices, provided more than 385,000 items of PPE by the first day.
We asked our employees to support our most vulnerable learners in-person, and they did.
In the first week, I personally visited Occoquan, Dale City, and Lake Ridge Elementary Schools, as well as Unity Braxton Middle, and everywhere I went I met employees who were working with positive attitudes and doing everything they could to support our students.
Let's take a look at a VIDEO of a teacher of special needs students at Occoquan Elementary - roll video.
We asked our employees to find a way to support our students and families needing meals.
During the first week of school, PWCS served 13,000 students on September 8, and 21,000 students on September 10. More than 320,000 meal equivalents were served for the week.
The meals are inclusive of breakfast, lunch, supper, and snack for five days, plus supper and snack for two days.
Service times are Mondays and Thursdays from 12-6 p.m. and complete details and locations are available on the PWCS website.
Channel 7 - WJLA - recently spotlighted this program, let's roll the video…
We have the best employees - and I am proud that Forbes Magazine has recognized this during the Covid-19 pandemic.
They recently named PWCS as the top school division in the state to work for and named us as the 11th best employer overall in the state of Virginia.
For comparison, the next closest school division on the list was Loudoun at 21st, Fairfax Schools were ranked 31st, and the Prince William County Government was ranked 42nd.
This was based on an external, independent survey of employees and is a great testament to the amazing culture we have here in our school division, especially during a pandemic.
As I stated at the beginning, I am so proud to be the Superintendent of this amazing school division.
It is clear to me that when you want something done - ask the public schools to do it.
We are already beginning to focus on what's ahead.
I am pleased to announce that thanks to the advocacy of our School Board and the partnership with the County Board of Supervisors, we have received an additional $20 million in CARES funds to help with immediate needs.
With this funding the school division will be able to deliver on our four-year Digital Equity Plan in less than six months. This plan was presented in January and approved by the School Board in April, to provide computers for every student in PWCS. This is a remarkable achievement for our division and will help our students and teachers for years to come.
We now begin to turn our attention to the preparation to the 2nd quarter, as I have been directed by the School Board to update you all this evening.
As you know, in July the School Board unanimously adopted a directive that stated, in part, that "it is the goal of the division to transition to a 50% Capacity In-Person and Distance Learning Model for the second quarter, with the option for students to remain virtual, while maintaining flexibility throughout to adapt to public health guidelines as needed."
The implementation of this model is incredibly complex and is essentially a reset to a new school year requiring immense work by all our support staff and schools.
It is imperative that should the School Board choose to deviate from this plan, staff must be informed as soon as possible.
While remaining in the status-quo - essentially continuing the first quarter model into the second - can be implemented quickly, moving from virtual to in-person requires substantial logistics that have already begun.
For your reference, based on the ParentVUE data collected last month, approximately 61,000 students indicated they will return in-person and 32,000 would prefer to remain virtual.
We will also be reopening ParentVUE near the end of the month to allow parents and guardians the opportunity to update their selection of virtual or in-person for their student, or students, in the second quarter.
This information will be critical as we prepare to implement the 50% model starting in November.
Here are additional key considerations regarding the second quarter:
Multiple Board Members have asked regarding what options are available for the second quarter including starting with elementary.
All student schedules have already been built on the 50% model, as such, there are three main options: 1. remain status quo, essentially what we are doing now in the first quarter or 2. implement the 50% model for all levels, or 3. phase in the return to the 50% model, such as starting with K through third grade.
And as a reminder, if we implement the full 50% at all levels the high school start time will revert to 7:30 a.m. in the second quarter, under the phased approach with K-3, the high school start time will remain at the later start.
The 50% model is predicated on three feet of social distance for most classrooms with face coverings required for nearly all students and staff at most times including bus riding.
At this time, the Prince William Health District considers Northern Virginia to have low community transmission of COVID. The current COVID case incidence rate in Prince William County per 110,000 is 13.7%.
Just today we received new guidance from the Centers for Disease Control with guidance on school re-openings. We will be working the Prince William Health District to review this information and if any changes are needed to our plans based on this new information.
Should COVID remain at current or increased levels, there is the likelihood that positive cases may occur within schools, and that may require staff and students to quarantine, as in just the past week we now have six students and 11 staff in two-week quarantine.
There is the potential for an inconsistent impact across the County as infection rates vary greatly by zip code.
Transportation will begin scheduling routes as soon as the ParentVUE data is up-to-date. Due to reduced capacity in order to meet social distance requirements, our bus routes will require double runs at every school which is very complex and our staff have already begun this work.
Staff will need to adjust student scheduling based on the ParentVUE data and staffing at the start of October.
While we believe we can meet the staffing needs, however there may be increased staffing impacts if staff must return in person, as staff may change plans based on child care, health, or other concerns. Our amazing Human Resources Benefits staff are working hard with our schools right now to verify this with each employee who has indicated such as concern.
In the 50% model, teachers in some classes will be assigned both virtual and in-person students.
The second quarter is scheduled to begin November 4.
This is the day after the election - and what may be a high turnout day and will bring many people into nearly every PWCS building as they are used for polling places.
As such, we would remain in the current model on November 4 in order to provide additional cleaning time for those areas used for the election.
Additionally, we know that teachers will need additional time to prepare their classrooms and the new safety protocols.
To meet this need, November 5 and 6 we will require teachers to report in-person while providing "on-demand," also called asynchronous, instruction.
The first in-person 50% day will be November 10 - with a reminder that November 11 is a holiday.
Despite these enormous hurdles, our staff is already hard at work and I have every confidence - just as they rose to the challenge to meet the first day of the new school year - they will do it again.
I want to close this evening by again thanking our teachers, our administrators, our support employees, our students, and our parents and guardians for coming together as a community and rising to the challenge of the Covid-19 pandemic.
I spoke a few weeks ago about how this would be a community effort - and you all delivered.
We will continue to partner in the weeks ahead as together collaborate to provide a World-Class Education for every student.
Thank you.