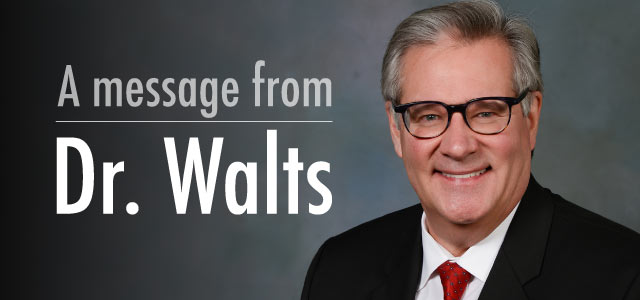 It is hard to believe that school begins Tuesday for the 2020-21 school year.
I recognize how difficult this pandemic has been on our students and their families, our staff members, and our community as a whole.
Some of us have lost loved ones or friends to COVID-19, and others have experienced the symptoms to varying degrees.
Our patience has been tested over and over again as we have limited our travel and stayed inside our homes.
I have also heard many inspiring stories from our community of people supporting one another. We must continue to work collaboratively to support one another and lift each other up.
The School Division has remained busy since the closure on March 13, serving more than one million meals to students in need. I want to thank the hundreds of teachers, administrators, and support staff for lending their skills, opinions, and help in preparing us for this year through task forces and the creation of instructional lessons, virtual and in-person. I'd also like to thank all the teachers who participated in our collaborative Town Hall meetings.
Additionally, we educated 5,800 students virtually through our summer school program.
In an effort to prevent the spread of the virus, our facilities and custodial staff have been working diligently to thoroughly clean our buildings and ensure our heating, ventilation, and air conditioning units are appropriately circulating air.
Our health staff has worked closely with the Prince William Health District to develop a plan prioritizing the physical and social-emotional needs of our students and staff, ensuring safety and belonging as a foundation for learning.
The most recent update we have received from the Prince William Health District is that there are no significant changes to COVID-19 in our local area, and we continue to be in the moderate range.
The PPE has been delivered to all schools for nurses, special education staff, and other employees, and mobile hand sanitizer stations are being installed at all schools along with clear plastic barriers in areas where the public interacts with employees.
Human Resources, our Level Associates, and school administrators have been working with employees to ensure their roles and expectations for in-person or virtual teaching are clear. This includes elementary librarians and counselors who have been provided clarifying guidance on reporting as needed.
On Tuesday, I personally thanked all the people I saw who were at the Kelly Leadership Center in mid-afternoon for assisting with the fittings for N95 masks. The operation was both efficient and impressive.
I have also spoken with each and every principal over Zoom to hear directly from them how their plans for the opening of school are progressing.
I can assure everyone that our schools are all working incredibly hard to serve our students and families.
I have seen the great work they are doing to conduct drive-thrus, where families get their books, art supplies, materials, and technology, and a chance to wave at their teachers, administrators and support staff.
Schools are conducting virtual meet-your-teacher and return-to-learn nights and town halls.
It is an enormous team effort, and I could not be prouder of the positive attitude of our teachers, administrators, and support staff to make best of this challenging time.
Here are some additional key things you need to know for the start of school:
September 8 is the first day of school for all students.
Most students are virtual only, unless your student's school has specifically talked to you about your student attending in-person.
Students attending in-person have been determined based on instructional need, as of today, we have 1,206 students attending in-person the first day.
Our teachers of students with special needs have been scheduling Individualized Education Program meetings with parents and guardians, and working diligently to meet the needs of their students. I sincerely appreciate the efforts of all of our staff members to draft or finalize more than 10,600 IEPs as of today.
Canvas will be the primary platform for delivery of online instruction. Details about Canvas for parents, including instructional videos, are available on the PWCS website and instructions are available in multiple languages. Our teachers and other instructional staff have been developing lessons through Canvas, which is a common learning management system. They have been engaged in multiple training opportunities to deliver the best possible instruction to our students.
1,500 parents participated yesterday in a Canvas Parent Pointers Session in collaboration with our English Leaner Programs and Services, Student Learning, and Instructional Technology staff.
On Saturday, I sent a message to all Special Education Teachers and related services providers to clarify the expectations of their use of Canvas. I recognize the dual priorities of IEPs and first-day readiness is a near-term heavy burden for these employees.
I greatly appreciate the enormous amount of time and energy it is taking to be as ready as possible for the first day of school. I also understand they are all dedicated professionals who want to deliver a World-Class Education for every child, every day.
The most critical thing for special education teachers providing in-person instruction is to be focused on the students in front of them while they are in school. Canvas needs can be met over the next few weeks and additional support and training will continue to be made available.
Additionally, the PWCS Canvas Commons now contains both K-12 Virtual Virginia and PWCS courses, offering special educators and English for Speakers of Other Languages specialists, also known as ESOL, access to a combined total of over 230 courses for their use. The entire courses or grade levels can be downloaded into a teacher's course. Or, teachers may wish to pick and choose individual assignments, to best meet the needs of their students. Teachers needing assistance with using the PWCS Commons in Canvas should contact the Instructional Technology Coach at their school, who can assist them.
Zoom will be the primary platform for live instruction. Details on using Zoom are available on the PWCS website.
To help prepare our students for virtual learning, PWCS is distributing more than 44,000 technology devices to families. Due to national supply-chain challenges, some families at the elementary school level may be asked to share a device among multiple students. As soon as we receive additional devices already on order, we will provide these families, one for each student. Canvas and Zoom apps can be used on a smart phone or tablet, if preferred, or if a laptop is not available.
The Division is also sponsoring the cost of Comcast Cares for qualifying families in need of internet service; qualifying families are being contacted.
For those in rural areas of the county without the ability to connect to broadband but who have cellular access, schools have limited numbers of take-home hotpots available.
Wi-Fi has been made available in 36 parking lot locations across the county, a list is available on the PWCS website.
Parents and guardians needing technology support should contact their students' school for additional information.
Student schedules for Elementary School are available in ParentVUE now, and all other schools will be released on September 4, along with courses being published at levels in Canvas that same day.
We encourage families to test your technology before the first day of school to help work out any issues; answers to common technology support questions are available from your school or by visiting pwcs.edu/helpdesk.
Be sure to look for communication from your student or student's school or schools for further details on the school year, including schedules and bell times.
Be sure to check for "The Scoop!" email each week and visit the PWCS website for the most up-to-date information on our return to learn frequently asked questions.
The USDA extended, through December 31st, the waivers that allow us to continue serving free meals including breakfast and lunch to all students. This doesn't change our operation extensively but allows more PWCS students to be served without having to prequalify for free or reduced status or pay.
In addition to breakfast and lunch, we will have 56 schools where families can also receive suppers and snacks for up to 7 days a week on Mondays and Thursdays.
A special Return to Learn packet has been activated in Online Registration in ParentVUE. This special online packet replaces many of the forms traditionally signed in person the first week of school including items such as the emergency contact information.
Also, for security, all PWCS Zoom and Canvas student accounts are locked from allowing students to change their name. However, if a student has a preferred first name, parents and guardians can update it at any time the "Preferred Name" in ParentVUE via either the app or web browser. If they don't have a preferred name, no action is required.
I appreciate your patience and support as we work through this difficult time. I am confident, working collaboratively, we can make the 2020-21 school year a fantastic year.
Now I would like to conclude my remarks this evening with a video that will help showcase what our virtual school will look like….